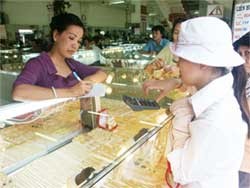 Current strong decline of buying power results a low growth rate of the domestic gold price. (Photo:TK)
Saigon Jewelry Company (SJC), a leading Ho Chi Minh City-based gold trader, reported their gold price reached VND12.18 million a tael (1.25 ounces) early this morning, an increase of VND100,000 a tael over Monday.
Local traders of the precious metal said they have been raising their gold prices from early this week. However, the increasing rate was still lower than in the global market due to a strong decline of purchasing power in the domestic market.
Currently, the domestic gold price was VND140,000 a tael lower than the global one.
In contrast, many analysts believed that the demand for gold is increasing in the world's markets, especially in Russia, China and India, where people are entering the wedding season.
Some international banks and investment funds predicted that gold prices in the global market would continue to rise through 2006 and further into 2007, estimating that gold will end up averaging around US$633 an ounce for 2006 and US$753 for 2007.