The Vietnam Association of Seafood Producers and Exporters (Vasep) hoped that seafood exports will recover from crisis to post a year on year increase of 6.3 percent reaching the turnover of US$7.12 billion this year.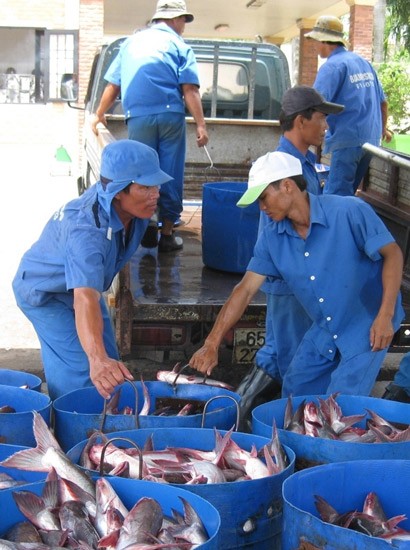 Tra fish harvest in Can Tho city (Photo: SGGP)
Of three main export items, shrimp and tuna will be brighter than last year while tra fish will continue facing many difficulties, the association forecast.
Tra fish exporters will be hindered with technical barriers from nations besides severe competition and input cost increase.
Gloomy picture

The year 2015 was a difficult year of seafood breeders and exporters who failed to get results as expected.
The country's seafood export turnover was estimated to hit US$6.7 billion, down 14.5 percent over 2014, reported Vasep.

Vietnamese seafood products have been exported to 164 nations and territories worldwide. Last year, many of them sharply reduced import comprising main markets such as the U.S., EU and Japan.
Vasep chairman Ngo Van Ich said that was the first time that the export of shrimp, tuna and tra fish slid down. Shrimp posted a year on year fall of US$1 billion to get only US$3 billion because of consumption difficulties and exchange rate fluctuations.
Director general of Thuan Phuoc Seafood Company Tran Van Linh said that Vietnam have to import over 60 percent of breeding white leg shrimp and 80 percent feed for shrimp farming, making local product price US$2 higher than other nations.
High input costs and low successful farming ratio have negatively impacted local products' competitiveness.
Agriculture and rural development departments in Mekong Delta provinces said that tra fish and shrimp breeders last year experienced heavy loss because of low selling prices. A tra fish kilogram fetched only VND21,00-22,000.
Beside market difficulties, regulations on ice to fish ratio to frozen tra fish fillet and export contract registration procedures have contributed to the reduction. Moreover, trade promotion has not been well performed to popularize tra fish products to consumers in the world, according to domestic businesses.
Urgent restructuring need
Shrimp exports hoped to recover in 2016 after last year crisis (Photo: SGGP)
Dr. Nguyen Thanh Tung, head of the Fisheries Economics and Planning Institute, said that although Vietnam has many advantages in seafood farming and exports, it has showed many weaknesses in production, processing and preservation.
Domestic enterprises have mainly attended preliminary processing in the global value chain not phases bringing higher added value such as deep processing, packaging and distribution, he said.
That is because of outdated technologies, low professional qualification and skills and lack of connectivity among participants from production to trade, he added.
Relevant services, infrastructures and associations have not well assisted the seafood industry's development.
Mr. Tung said that international integration has put Vietnam under urgent need of value chain development. For a long time, seafood farming and exports have been taken place in the manner of 'every man for himself'.
According to him, value chains bring together suppliers of input materials, breeders, traders, processors and exporters.
The Government plays decisive role in the success of value chains by giving reasonable policies and creating a healthy competitive market for all participants of the chain.
Processing plants play key role in value chains by connecting farmers and exporters with the Government's assistance polices and economic contracts, Dr. Tung said.