Known the world over for their precision engineering, German machinery manufacturers are expanding their business in Vietnam with the assistance of VDMA (German Engineering Federation) and GTZ (German Technical Cooperation Organization).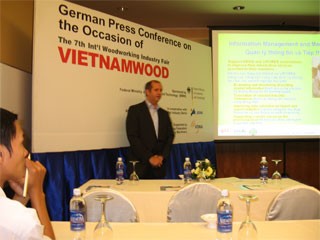 Mr. Heiko Woerner talks about GTZ's progress and plans at the press conference (Photo: Huu Tho)
As they did a year ago, VDMA and GTZ gave a joint press conference at the Legend Hotel Saigon on Friday morning as part of the seventh Vietnam International Woodworking Industry Fair in Ho Chi Minh City from September 27-30.

GTZ is carrying out a Vietnamese-German Forestry Program with the assistance of a consulting outfit called GFA.

The program promotes the sustainable utilization and management of natural forest and the marketing of important timber products.

Since April, GTZ has been working closely with the Truong Thanh Woodworking Company in the highland province of Daklak.

In five months the German group has trained over four hundred Vietnamese workers, including more than one hundred workers and a score of instructors for Truong Thanh alone.

Vietnam's economy has been growing fast in recent years but still lags behind other countries in respect of technical matters.

For this reason the country's timber industry has remained relatively weak and only able to turn out products of medium quality.

With the training from GTZ and woodworking machinery from Germany, Vietnam will be able to make timber products of high-end quality and export them to more countries without destroying its natural forests.

GTZ sees its job as promoting complex reforms and changing processes. Its corporate objective is to improve people's lives on a sustainable basis.

VDMA is a key association service provider and forms the largest engineering industry network in Europe. It covers everything from component and plant manufacturers to system suppliers and integrators.