After less than one year from the first visit, the business delegation of the German state of Mecklenburg-Vorpommern returned to Viet Nam to look for the possibilities of cooperation and development.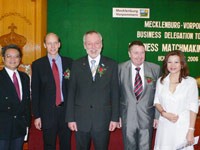 Business Delegation of the German State Mecklaenburg-Vorpommern visiting Viet Nam. (Photo: Friedrich)
The 20-strong business delegation includes enterprises of shipbuilding industry, environment, food procession, construction, and transportation, etc. They meet with partners of Ho Chi Minh City to seek cooperation and investment opportunities.
German enterprises have found many opportunities to do business in Ho Chi Minh City, especially in shipbuilding industry and environment protection, said Dr. Otto Ebnet, the Economic Minister of the Mecklenburg-Vorpommern State.
The delegation, previously, has working visits in Ha Noi, Hai Phong City. Also they plan to visit Dong Nai and attend the opening ceremony of a ship ventilation engine factory invested by Germany in Hai Phong.