The FPT Group ( specializing on computer software and hardware technology) intends to do business with a Nigerian counterpart.
FPT and the 21 st Century Technologies Inc (21 CT) of Nigeria on July 6 signed a memorandum of understanding (MoU) on strategic cooperation between the two sides.
Under the MoU, FPT will cooperate with 21CT in the fields of telecommunications, education and equipment production.
FPT also plans to seek opportunities in digital content services along with providing consultancy, developing infrastructure and offering service for the Nigerian company.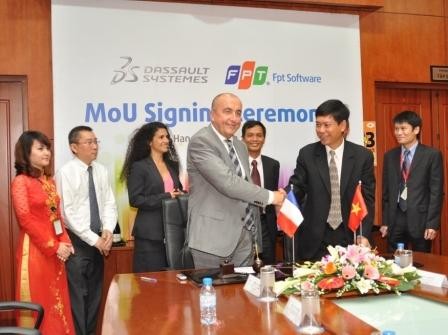 FPT Software and Dassault Systemes (French) signs a memorandum of understanding (MoU).
This is part of FPT's strategy to step up investment abroad as well as attracting foreign hi-tech and fund. Last month, FPT Software and Dassault Systemes signed a memorandum of understanding (MoU) to provide specialised solutions to enterprises in Viet Nam.
Under the MOU, FPT Software and France's Dassault Systemes will build a co-operative product portfolio to meet the demands of the Viet Nam telecommunications and banking sectors.
Nguyen Lam Phuong, Deputy General Director and Technology Director of FPT Software, said: "I am very optimistic about the future development of this partnership because it not only directly represents the interests but also spreads to the entire service industry in Viet Nam."
Philippe Forestier, Executive Vice President of Network Selling at Dassault Systemes, said the co-operation "would contribute to the profound changes business services would experience in the near future. This partnership would enable us to provide clients with essential services to promote creativity and to face numerous legal and regulatory risks."
Dassault Systemes has also co-ordinated with FPT Software to establish a technology excellence centre for the telecommunications industry in Viet Nam