Demand for agricultural products is increasing while resources needed for farming are shrinking, and this provides young people with the opportunity to start up businesses that offer advanced solutions and innovative projects to increase productivity and quality, a forum heard yesterday in HCM City.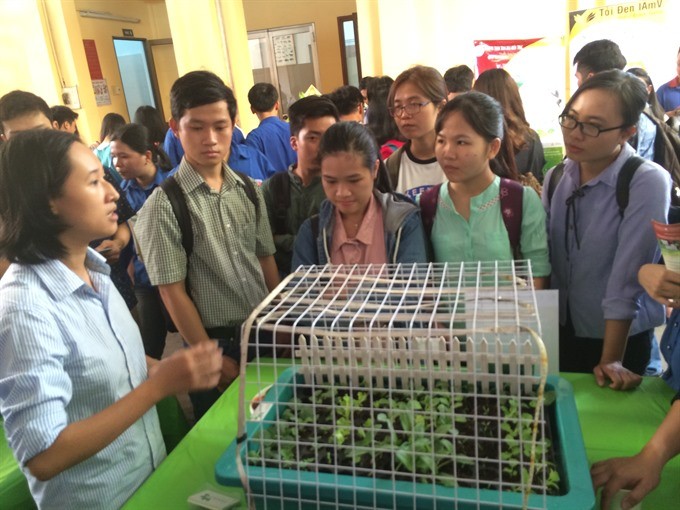 Dinh Thi Thu Hang (left), director of Vuon Rau Nha Minh, speaks about her vegetable garden model to youths on the sidelines of the forum. (Photo: VNS)
Tran Tan Quy, deputy director of the city Department of Agriculture and Rural Development, told the Agricultural Startup Forum that the city's agricultural production meets just 30 percent of its 10 million populace's demand.

This shortfall offers businesses a good opportunity for enhancing production, he said.
The city is focused on developing businesses, and the forum was among the solutions to promote start-ups in the farm sector, he said.

Organised jointly with the Business Studies and Assistance Centre (BSA), it aimed to help students, young entrepreneurs and people with small businesses figure out new projects and initiatives and exchange ideas with experts and successful agricultural businesses, he said.

Nguyen Lam Vien, chairman and general director of Vinamit Joint Stock Company, said young people should research the market to see what is in demand and clearly differentiate their products to attract customers.

Demand for products that are good for health, beauty and longevity has been on the increase globally, including Vietnam, providing an opportunity for start-ups, he said.

He said start-ups should research into non-chemical agricultural methods to create breakthroughs and grow safer products while protecting the environment.

Nguyen Khac Minh Tri, CEO of Mimosa Tek, said start-ups need to identify their target customers before launching their products.

Young business executives at the forum agreed that finding a good team is very important for a start-up.

"If we have a good start-up idea but not a good team to execute it, we will find it hard to succeed."
Besides ideas and people, the other important factors for a start-up are strategy, vision and cash.
Besides the Government, many organisations and successful businesses like BSA, the Hi-tech Agricultural Business Incubator and Startup Vietnam Foundation support young people and students who want to begin start-ups.

Vu Kim Anh, director of BSA, said it has organised programmes to help start-ups make business plans, solicit investment and promote consumption of their products.

More than 400 youths and owners of small businesses in HCM City and elsewhere participated in the forum, which also featured an exhibition of agricultural products and smart agricultural control systems.