Viet Nam aims to draw about US$55 billion of foreign investment capital in the 2006-2010 period, said Phan Huu Thang, head of the Foreign Investment Department under the Ministry of Planning and Investment.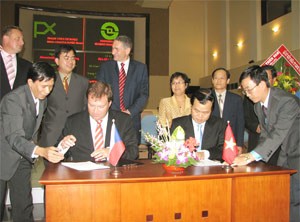 Viet Nam always welcomes foreign investors (Photo: T.C.)
In order to attract an average of US$11 billion of foreign investment a year, the department has proposed a series of solutions to legal policies, administrative reforms, and investment promotion.
 
The department has also suggested that the Prime Minister soon issue guidelines on measures to take advantage of a new wave of foreign investment, and set up more investment promotion agencies in big markets like Japan, the U.S. and Europe.