While fresh seafood was being sold at markets by the second day of the Lunar New Year, the price had increased between 20-30 percent due to a combination of high demand and limited supplies during the holiday.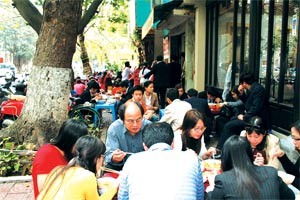 Restaurants and street vendors raise their prices on the Tet holiday
A local market vendor offered this explanation for the increases: "I gathered seafood products in Thanh Hoa province before Tet to sell in Ha Noi after Tet. It's natural for the price of seafood to increase because most fishermen don't work during the holidays and transportation and preservation costs increase considerably."

Vegetables were also much in demand but prices increased only slightly thanks to abundant supplies.

Restaurants and street vendors also raised their prices by up to 20 percent compared to pre-Tet prices.
Restaurant owners said that they had to increase the price because supplies were more expensive after Tet.

According to the experience of many homemakers, food costs remain high until the end of the first month because people often continue to celebrate for that long.