The Planning and Investment Ministry reports that 1,045 projects worth US$8.29 billion were licensed from January to September, a year-on-year increase of 33 percent in terms of number and 60.2 percent in registered capital.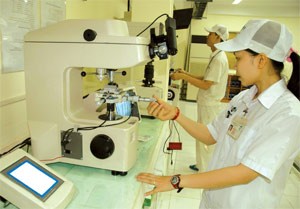 Industrial projects in Ho Chi Minh City always attract foreign investors
In September alone, 231 projects worth US$1,187 million were licensed.
 
The number of large projects among the newcomers increased over 50 percent from last year, and 15 of them made up 45.7 percent of the total registered capital.
 
Besides a few large industrial undertakings, most of the big investment was in real estate development such as hotels, office buildings and apartments.
 
The average investment capital for each project was US$8 million, almost a million up on the US$7.01 million in the same period last year.
 
Ho Chi Minh City rose two places to top the list for new investment projects, attracting US$1.1 billion in foreign direct investment, or 13.5 percent of the total registered capital.
 
The city approved additional investment capital of US$119.6 million for existing projects, equal to 9.09 percent of the national figure for the period, ranking the city third in Viet Nam in terms of capital and production expansion.
 
Republic of Korea continued to top the list of 47 countries and territories investing in the country.