Figures from the Ministry of Planning and Investment show in the first half of 2011, export turnover of enterprises conducting foreign direct investments (FDI) in Vietnam was US$19.6 billion, while import turnover reached $21.4 billion.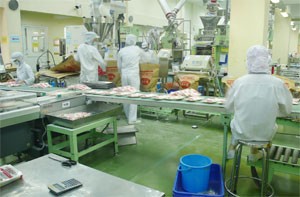 Employees work at a factory of the Japanese food and pharmacy group Ajinomoto in Vietnam (Photo: Phan Hien)
The gap of nearly $1.8 billion for the first time ever amounted to 26 percent of the country's trade deficit.
Economists says the trade gap comes from the fact that many foreign-invested companies have switched their businesses from production to commerce since import tariffs on some products were cut to comply with Vietnam's commitments to the World Trade Organization (WTO), which it joined in 2007.
Some other FDI companies have even abused transfer pricing to hide profits so that they can evade tax in Vietnam, the economists say
The Ministry of Finance has announced it would carry out inspections of 2,600 loss-making foreign invested companies this year.
 
Transfer pricing refers to paper transactions among members of the same company that allow allocating profits to lower-tax countries.
It is not illegal to conduct such income shifting activities. However, Vietnam tax administrations are watching closely for potential tax avoidance from companies involved in the practice.
Vietnam, like all other Southeast Asian countries, is not a member of the Organization for Economic Cooperation and Development, a 34-member intergovernmental group that has developed guidelines for transfer pricing methods.
Global consulting firm Ernst & Young believes that Vietnam's policy on the issue is already based on the widely accepted OECD guidelines.
Analysts say most foreign-invested firms built factories in Vietnam to take advantage of low-cost workforce, cheap fuel and local preferential policies.
"FDI companies focus on import as Vietnam's auxiliary industries remain fledging. Therefore, trade deficit of FDI companies look set to remain wide in the next ten years," an economist in Ho Chi Minh City told Dau Tu Tai Chinh Newspaper.
The gap have been widening since last year, reaching $2.7 billion, he says, adding that the deficit was steadily around $2 billion per year before 2009.
The Ministry of Industry and Trade (MIT)'s Export-Import Department says machinery and material are among main product categories imported by FDI enterprises.
Efforts to curb the wide trade gap have seen MIT ask the customs to make detailed statistics on import activities of foreign-invested enterprises.
MIT experts also recommend that in addition to a closer supervision over FDI companies' import, the government should set up regulations encouraging them to beef up export.
Vietnam is home to 8,600 foreign direct invested companies.