Foreign Direct Investment capital has shown as increase of 80 percent in the first quarter of the year in Ho Chi Minh City, to reach US$122.65 million, according to the Export Processing Zone and Industrial Park Authority (Hepza).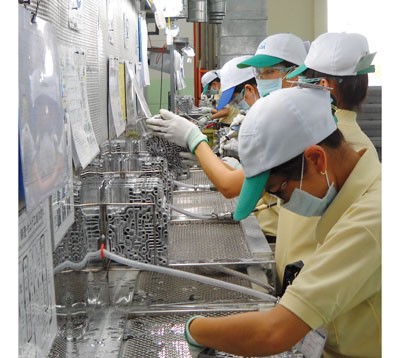 Production workers at a FDI company in Tan Thuan Export Processing Zone in HCMC (Photo: SGGP)
In late March, the HCMC People's Committee licensed two $100 million projects of Sanofi Vietnam and Nidec Tosok Vietnam Companies at the Saigon Hi-Tech Park and Tan Thuan Export Processing Zone.
The City Department of Planning and Investment said that HCMC had 78 new FDI projects with total capital of $159.8 million by March 31. This is a reduction of 19.6 percent in the number of the projects but an increase of 109.4 percent in capital over the same period last year.
Nguyen Tan Dinh, permanent deputy head of Hepza, said that despite a difficult economic situation since the beginning of the year, FDI has still moved up because businesses are doing well in industrial and export processing zones and want to broaden their base.
Besides, relevant departments in Ho Chi Minh City have tried to assist investors by streamlining administrative procedures.
The HCMC People's Committee has tasked the Department of Planning and Investment to meet with relevant organs to speed up operations to attract more foreign investments. Large scale projects with advanced and environment friendly technology will receive priority.
Related agencies should work with district level people's committees to examine progress of projects which have been licensed and report slow progress. If investors are unable to carry out these projects, the City must revoke or transfer to other investors.