Vietnam's export turnover is expected to increase 17-18 percent year-on-year to more than US$85 billion this year thanks to the government's concerted efforts to curb trade deficit in the first two quarters, says the Ministry of Industry and Trade (MIT).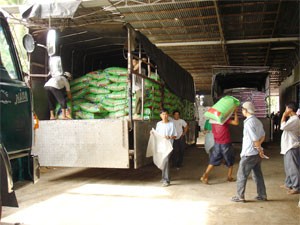 Employees of a rice exporter load rice bags to a truck. Export turnover of textile and rice sectors reached record high in the first six months of 2011 (Photo: Minh Tri)
Figures from the ministry's Import-Export Bureau show the export turnover in the first six months of the year increased 30 percent year-on-year to $42.3 billion despite the international and domestic economy slowdown.
Agricultural products and seafood are among biggest gainers, achieving a sharp year-on-year increase of 45 percent and amounting to 23 percent of the total amount.
Coffee and rubber are among sectors, which earned an export turnover of more than $1 billion.
Phan Van Chinh, head of the bureau, says the country's export this year is looking very positive as the average turnover reaches over $7 billion monthly, nearly $600 million higher than the targeted figure.
However, export turnover of some sectors including computer component, vehicles and accessories, electrical cable and chemical grew at unexpected rate, according to the MIT.
Trade deficit showed signs of narrowing down, with import turnover of consumption products edging up by less than 1 percent only, according to the MIT. The gap is expected to amount to around $14-14.5 billion this year.
Textile and rice at record high
Representatives from the Vietnam National Textile and Garment Group, also known as Vinatex, says textile export turnover in the first six months increased 29 percent year-on-year to $6.2 billion - the highest growth rate in the last five years.
However, import turnover of materials in the first two quarters reached $5.7 billion due to the increasing input cost.
Rice sector followed a similar pattern, with more than 3.9 million tons of rice worth $1.8 billion being exported in the first six months – the all-time highest amount.
The exported amount increased 15 percent year-on-year and the export turnover moved up by 25 percent year-on-year.
Experts expect the exported amount will reach more than 3 million tons in the last two quarters of the year, raising the total number to over 7 million tons.
Analysts say many local businesses have struggled to meet the targeted turnover as they have been weakened by high interest rate for long time.
Many investment projects are in severe shortage of capital, leaving the 60 percent target for local content ratio likely unreachable.