Vietnam needs to make major adjustments to the foreign-invested sector, which accounts for over 40 percent of the country's total capital and about 30 percent of its GDP, to make its economy sustainable.

In the 2007-2009 period, the country attracted 4,098 FDI projects capitalized at US$114.15 billion, 4.5 times the five-year target from 2006-2010, the Ministry of Planning and Investment reported.

In 2009 alone, despite impacts of the global economic crisis, Vietnam received a total registered FDI capital of nearly US$21.5 billion.

Planning and Investment Minister Vo Hong Phuc attributed the good performance to three factors: the country has made changes to its economic policies under its WTO commitments; domestic companies have expanded their overseas markets for their goods and services; and the country has removed obstacles to foreign investors and given them incentives.
Workers at an electronics and mobile phones factory at fully Danish-owned Sonion Co., Ltd. FDI in Vietnam is forecast to increase. (Photo: SGGP)
Despite what the figures say, the government has to make some big changes in the way it evaluates foreign investors to guarantee progress for the FDI sector.   
Few projects in infrastructure, agriculture

The rapid FDI growth has brought some problems. One of which is most FDI projects focus on natural resource exploitation, real estate and some service sectors, while the country's strong point, agriculture, is largely overlooked. Infrastructure is also often left out of the FDI picture.

Another issue is that many projects do not have enough capital so they rely on loans, which affect their progress and economic efficiency. 
 
In addition, since most FDI projects mainly rely on low labor costs for growth, rising wages could spell trouble.

Some large FDI projects have exposed their infeasibility. One example is the Ca Na steel project in Ninh Thuan province, which may have its license revoked, according to reliable sources.

This four-phase project started in 2008 with an investment of $10 billion and was scheduled to complete this year with an annual capacity of 4.5 million tons of steel per year. But the site has not developed since it broke ground.
   
In Thai Nguyen Province, a $450 million FDI project to exploit minerals has been at a standstill since it was licensed several years ago. Currently, negotiations are underway to transfer the project to a domestic investor.

In Quang Ngai Province, the $1.2 billion Tycoon - E.United steel complex project, licensed in September 2006, has yet to be developed, though it was licensed three years ago.

More stringent evaluation needed

Another problem lies in the rate of actual capital disbursement for FDI projects, compared to the registered capital.

In the 2008-2009 period, the total registered capital of FDI projects was over US$85 billion, but only 25 percent of the amount was disbursed.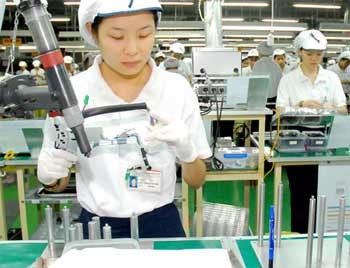 Workers at a electronics factory of Japanese-invested Nidec Tosok in Tan Thuan Export Processing Zone, Ho Chi Minh City. FDI enterprises are reported to contribute 30 percent of the country's GDP but most focus on exploiting natural resources.  (Photo: SGGP)
Dr Phan Huu Thang, former head of the Foreign Investment Department, under Ministry of Planning and Investment, blamed the poor performance on legal loopholes, obsolete infrastructure, and unqualified human resources.
Thang said the fact that investors were often not assessed stringently enough, had added to FDI problems, as many of them were not capable of doing what they said they could do.

Investing in Vietnam, many foreign investors have been more interested in low labor costs, than in bringing advanced technologies, he said.

They appeared to take advantage of the cheap labor costs to be competitive internationally.

Tax reports

The credibility of tax reports by FDI companies were another problem.

In Ho Chi Minh City, of the 1,254 FDI companies that submitted their 2008 tax reports, 708 reported losses with 90 percent of them in the garment sector, the city Tax Department said.

Their reports exposed an obvious irrationality, experts argued, saying that most domestic garment companies reported profits, despite the need to import most of their materials. Therefore, FDI enterprises, which were provided with materials and other facilities by their holding companies, could not operate at a loss.

Technology transfer

Technology transfer by FDI companies is another problem. Economic expert Bui Trinh said that in 2004-2009, the Total Factor Productivity (TFP), which is an indicator related to the use of technology, of State-owned, private and foreign-invested sectors were 8.6, 3.1 and -17.6 respectively.

This showed that the State-owned sector received the most technology transfer, suggesting that the FDI companies mainly depended on cheap labor not technology for their growth.

A recent survey showed that most machinery and equipment at many FDI enterprises were second-hand.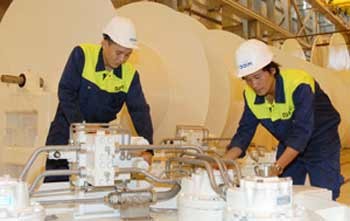 Workers at Odim, a 100 percent Norway-invested plant, which manufactures equipment for the maritime industry. Experts say FDI should be directed into the country's major economic fields, especially agriculture and infrastructure. (Photo: SGGP)
Funnel FDI where it's needed

As the world economy is on the recovery, experts forecast an increase in FDI inflow, but said such FDI should be more centered on important fields of the economy, like supporting industries, infrastructure, farm produce processing, high value-added services, energy-saving industries, production of goods for export, and human resource development.  

Dr. Le Dinh An, director of the National Center for Socio-Economic Information and Forecast, said the FDI in 2010 must match the country's economic strategy, with focus on a number of specific industries and products.

Dr. An said Vietnam needs a flexible master plan for FDI attraction, subject to adjustment based on development and investment trends.   
  
Experts said more reliable evaluation of investors was needed and investment licenses must be granted to only investors with a proven track record of success.

Nguyen Mai, chairman of the Foreign Invested Enterprises Association, said that FDI must match the goals of development in the different sectors.

He said that foreign investors should be clearly informed about what fields they are encouraged to invest in the country.