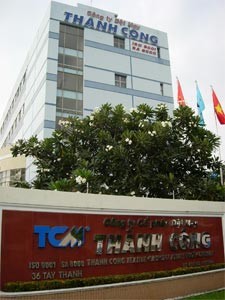 In order to attract investors, State-owned Thanh Cong Textile Garment Company is transformed into a joint stock company in July 2006. (Photo: Hoang Uy)
The Vietnamese government hopes to equitize all the non-strategic State-owned enterprises by 2009, though the way things are going it might need a miracle to meet this target.
According to the National Steering Committee for Enterprise Reform and Development, 3,060 wholly State-owned firms had been equitized, to use Viet Nam's term for the privatization process, by the end of August.
They include government monopolies in electricity, post and telecommunication, aviation, gasoline, finance and insurance.
Initially, the Prime Minister allowed the trial equitization of certain roads, waterways, hospitals and schools, said Pham Viet Muon, the committee's vice chairman.
In the final days of last year, nearly 12 percent of the capital at wholly State-owned enterprises was equitized by selling some or all of the state's holdings, selling shares or keeping the capital and issuing shares.
"The equitized enterprises, as a whole, have fared better," Muon said.
According to a government survey, a year after being equitized, 850 firms had raised their capital by an average 44 percent, their revenue had climbed 23.6 percent and profit 24.9 percent, and their employees had enjoyed a 12.9 percent rise in pay.
However, corruption and wasteful spending is still plaguing many State-owned companies in the privatization pipeline.
The Ministry of Finance says that only small to medium enterprises have been equitized so far.
The charter capital of more than 2,600 of the 3,060 equitized companies in this regard is less than US$625,000.
Besides, firms in strategic sectors like electricity, water supply, and post and telecommunications avoided equitization by transforming themselves into holding companies with subsidiaries or into what are termed one-member limited liability companies.
At a Ha Noi conference on equitization, dozens of policies and mechanisms were formulated to boost the process.
Speaking at the conference, Prime Minister Nguyen Tan Dung stressed that, in order to integrate them into the global economy, State-owned enterprises ought to be reformed to suit a market economy.
In addition, the government instructed the Ministry of Finance to draft a decree regulating the sale of State-owned assets to foreign entities.
That was done and the new decree, according to a government official, will increase the number of equitized companies, extend the right of foreign investors to buy into State-owned firms, and remove irrational incentives.
Furthermore, equitized enterprises will become one-member limited liability companies, corporations or holding companies; the number of sectors controlled by the government will be reduced from 30 to 14, and the cap on foreign share ownership will also be removed.