"If you (the Vietnamese people) concentrate on the strong points you showed in the war like your solidarity, single-minded purpose and unanimous goals, the Vietnamese economy will grow rapidly," former Japanese prime minister Tomiichi Murayama told Tuoi Tre in a recent interview.

Reporter: What's your impression of Viet Nam after five visits?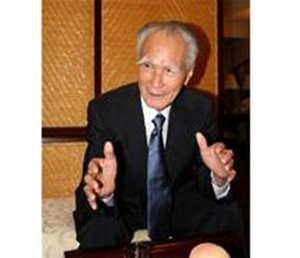 Former Japanese prime minister Tomiichi Murayama
Mr. Murayama:
I came to Viet Nam for the first time in 1994 and realized it was much like Japan in the post-war period (WW2).
Like other people at the time, I predicted that being a nation that was brave and enduring in the war and diligent in its work would propel Viet Nam to dramatic growth.
Since then I have seen for myself the country's miraculous changes, with more buildings and vehicles, and particularly the obviously higher standard of living for so many of you.

The present Vietnamese society is like Japan's 30 years ago. What can Viet Nam learn from Japan's economic development?

Every country is unique. We have to recognize our strong points and develop them to the fullest.

Viet Nam is in with a big chance to develop its economy rapidly if it makes the most of its young people. If this growth is to be stable and sustainable, the only way to start is with education.

You must invest more in education and give young people greater access to advances in science and technology. It is an optimal shortcut because man decides development.

What worries you about Viet Nam's rapid economic growth?

I'm afraid there are too many motorbikes and cars. If you don't have methodical planning for urban areas, the resulting traffic jams and air pollution will directly threaten the economy's prospects.

You have been telling Japanese firms to invest in Viet Nam since the 1990s. Has our investment environment improved enough over the years?

After my first visit in 1994, whenever I met Japanese businesspeople I would tell them they should invest in Viet Nam as it had a lot to offer. And so they did. These days most of the major Japanese companies are present in your country, proving that its investment environment has improved greatly.

Viet Nam needs to advertise itself to the Japanese people as much as possible. You must improve your investment environment and policies so that potential Japanese investors feel as comfortable and secure as they do in their own country.

Viet Nam and Japan are determined to enhance their relationship and form a strategic partnership, isn't that so?

Viet Nam performs an important role in the ASEAN region and in Asia generally, so a strategic partnership will benefit both of us.

Our two countries are preparing to negotiate a bilateral economic partnership agreement. If it's signed, the pact will strengthen our relationship and make it easier for many Vietnamese goods to sell in the Japanese market and vice versa.

Japan will also invest in three major projects here: a highway and an express railway from north to south, and Hoa Lac Hi-tech Park. Because of their scale, these projects require enormous effort by the two governments.

My hope is that young Vietnamese people will be involved in these projects in a major way and contribute significantly to their success.