At the Spring Economic Forum 2013, organized in the central province of Khanh Hoa from April 5-6, several delegates were of the view that the economic restructuring program started in Vietnam some years ago has been moving at far too slow a pace.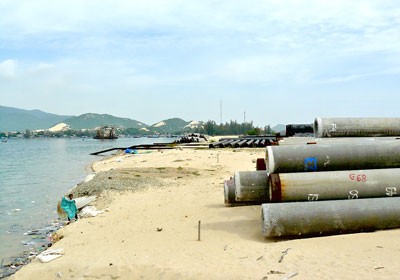 Incomplete Van Phong International Port in the central province of Khanh Hoa is an example of wasted capital (Photo: SGGP)
A former official of the State Bank of Vietnam said that economic restructuring had slowed in the last five years.
Sharing this view, Tran Du Lich, deputy head of the National Assembly Delegation in Ho Chi Minh City, said that he along with other NA members had proposed the restructuring of the country's economy way back in 2008. However the Government only responded in February this year.
Some economists were of the view that this proposal was now outdated and needed to be revised as per current trends in the global economy.
Other major issues were also discussed at the Forum pertaining to public investment, finance and banking and restructuring of State-owned businesses.
Delegates at the Forum said that they have received contradictory figures on bad debts and real estate inventory, raising questions in minds of investors.
Although bank interest rate has been reduced compared to two years back, businesses still have difficulty in accessing low interest loans. The interest decrease is only seen on paper and in actual fact businesses are continuing to face capital shortage and even bankruptcy.
Dr. Nguyen Dinh Cung, deputy head of the Central Institute for Economic Management, said that excess investments and unplanned projects have created an unrealistic demand that does not tally with local income levels or the prevailing economic conditions.
This unrealistic demand has brought in investments far in excess of need, as in the case of the real estate market.
Dr. Le Dang Doanh, former head of the Institute, said the Government should assign an autonomous body to monitor activities of various Government departments.
According to Dr. Nguyen Hong Son, principal of University of Economics in Hanoi, many public investment projects, banking and State-owned businesses were introduced much before the restructuring plan was put in place.
Most of the delegates agreed that the economic restructuring plan should focus on fundamental issues and first create the resources needed for growth and development.
Nguyen Thi Kim Ngan, Deputy Chairwoman of the National Assembly, said after the two-day Forum, opinions and ideas from experts should be incorporated and the economic restructuring plan of the Government must be revised.