The Trans-Asia highway linking central Viet Nam with Loas, Thailand and Myanmar has been completed, and now we should develop it into a corridor of economic cooperation and development in the region as it is called the East-West Economic Corridor (EWEC), said Deputy Prime Minister and Foreign Minister Pham Gia Khiem.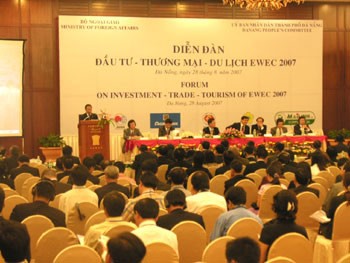 At the EWEC Investment-Trade-Tourism forum
At the EWEC Investment-Trade-Tourism forum in Da Nang yesterday, he made it clear that the transportation corridor should help boost economic development in the EWEC.

Mr. Khiem said that the forum will create an opportunity for EWEC countries to fortify their cooperation, particularly after the 1,450km traffic systems of the four countries were connected, as well as strengthen their cooperation with other great sub-Mekong countries.

The Deputy PM said Thailand, the most developed country in the EWEC region, should play an active role in developing and promoting trade, tourism and investment along the highway.

He said goods from Laos, Myanmar and Thailand will flow into Viet Nam before being exported to other countries, while international tourists to central Viet Nam will continue to travel to Laos, Thailand and Myanmar.

The EWEC countries have developed transportation infrastructure, and the next steps should be the development and exchange of cultures, tourism and trade through shared strategies, said Sommai Phasee, deputy minister of finance and head of the Thai delegation at the forum.

He said complicated customs formalities are obstructing trade and transport among EWEC countries. Simplified formalities should be created for cross-border transport along the EWEC.

He pointed out that some agricultural products from Viet Nam and Thailand have been at the top of world exports, but EWEC countries have not worked together to further develop them.

Somsavat Lengsavat, standing deputy prime minister of Laos, said Laos and Viet Nam have discussed how to further reduce import tariffs on goods originating from their countries and have addressed and removed various barriers for trade promotion.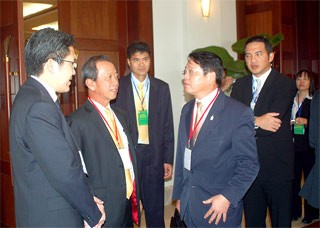 Businessmen talk about investment opportunities with representatives of EWEC provinces
He suggested enlarging the scope of the EWEC from the existing 13 provinces to reach out to more provinces, and conducting a feasibility study on the construction of railroads that will link the Pacific Ocean to the Indian Ocean.

The EWEC countries also should consider granting visa exemptions to attract more tourists, he added.

U Maung Myint, deputy minister for foreign affairs of Myanmar, said facilitation of transport is a key factor for all-round development of the corridor.

Located to the west of the trans-Asia Highway, Myanmar has taken an effort to develop infrastructure facilities to help connect the country to EWEC, such as deepwater seaports, he said.

Myanmar has also prepared special economic zones which will help promote trade with other EWEC countries.

Mr. Myint also asked Vietnam Airlines to establish a direct flight between Ha Noi and Yangon later this year to facilitate transportation between the two countries.

Tetsuo Shioguchi, senior executive director of the Japan Bank for International Cooperation (JBIC), asked participants of the forum to consult JBIC on how to provide assistance as the EWEC countries strive to transform EWEC into an economic corridor.

The forum, part of the EWEC Week, was attended by about 500 delegates, including delegate heads of EWEC countries, ambassadors of the EWEC countries to Viet Nam, Japanese ambassador to Viet Nam, governors of EWEC provinces, and representatives from JBIC, Japan External Trade Organization, Asian Development Bank, China's Guangxi Province, and Vietnamese and foreign companies.