Vietnam Construction Industrial Group made 18 percent out of this year's targeted profit in first half due to a credit squeeze, says general director Duong Khanh Toan.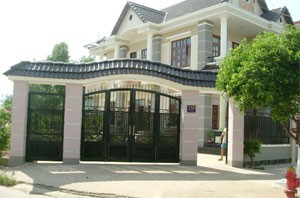 Property investors are paying for having rushed to build villas and luxury apartment blocks, which are too expensive to most of people (Photo: Phan Hien)
Housing and Urban Development Corporation, known as HUD, has ever been experiencing in the toughest time, says general director Nguyen Dang Nam.
The government's cap on credit to property investments sent input costs soaring and left the country's property market being frozen, Nam adds.
Although property enterprises in the north say they struggle with credit crunch, figures from the Hanoi People's Committee show a contrast picture.
Credit to property investments has made only 7 percent out of the outstanding loans so far this year, the committee says in a report.
Credit crunch has not made much impacts on property enterprises since growth rate of the property market in the south in the first half slightly declined by 1-2 percent, says Vu Xuan Thien, deputy head of the Housing and Real Estate Management Department.
Housing cost in the north, meanwhile, remains almost unchanged in the first six months of the year after surging in the third quarter last year.
"Property price in the north has actually even edged up around 1-2 percent so far this year. However, for some reasons, many people still bought into rumors that the price is slumping," Thien says, without disclosing what the reasons are.
Therefore, experts say the government's tight monetary policy is not the main cause of the bearish property market.
Property investors are paying for having rushed to build luxury apartment blocks, which are too expensive to most of people.
Tong Van Nga, vice chairman of the Vietnam Real Estate Association, says without making market researches, property investors made "incorrect assessments" about the housing demand.
Investors focus solely on villas and luxury apartments, while shunning the demand for low-cost houses, which are in severe shortage, Nga says.
They grapple to sell apartment and villas to have investments for more construction projects, he says.
Property investors are not at risk of bankruptcy, but the market is set to continue its losing streak, says Phan Thanh Mai, general director of property investment fund.
Mai notices that the restriction on credit to property investments is an unfair treatment for projects, which create jobs, use domestic building materials and provide houses to residents.
"Real estate sector should not rank among non-production sectors as it contributed around 10 percent of the gross domestic product (GDP) in 2009 and 2010," says Nguyen Van Minh, general secretary of the Vietnam Real Estate Association.
The State Bank of Vietnam is trying to keep this year's credit growth below 20 percent in an attempt to control inflation.
In the meantime, commercial banks have been ordered to cut back on lending to the non-production sector, which includes the stock and real estate markets. The aim is to limit credit in this sector to 16 percent by the end of the year.