Vietnam's consumer price index (CPI) in July rose 1.2 percent from last month, the General Statistics Office says in a report on its website on Saturday.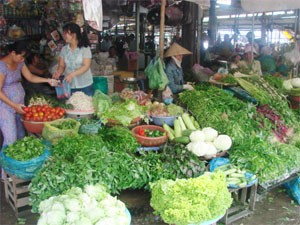 Food prices remains key driver of this month's CPI (Photo: Phan Hien)
Food prices are among the key drivers, with "foodstuff and eating outside" moving up by 3.2 percent and 1.78 percent respectively.
Among the country's big cities, CPI of the capital Hanoi this month increased 1.32 percent from June, Ho Chi Minh City's rose 1.07 percent and Da Nang's advanced slightly 0.93 percent.
The consumer price index is expected to rise 20.82 percent this month compared with June last year, the General Statistics Office said.
Prices have risen every month since August 2010, although inflation is still below a recent peak of 28.3 percent recorded in August 2008, and far from the triple-digit figures seen in the 1980s.
The latest increase had been expected by economists, who see price pressures easing toward the end of the year.
"We are expecting that inflation will (be) likely to peak in June 2011 at around 22 percent," Thanh Nien Newspaper quoted Deepak Mishra, the World Bank's lead economist in Vietnam, as saying early this month.
In related news, trade deficit is expected to be at low amount, reaching around US$200 million in June, according to the General Statistics Office.
Gold export is also expected to contribute the most to the low gap. Figures from the office show exports of precious stones and metals hit $1,027 billion in the first half of 2011. That compares to a full-year figure of $2,855 billion in 2010.
Vietnam had exported around 20 tons of gold this year through June 20, as local traders tried to take advantage of lower prices at home to boost shipments, news website VnExpress reported last month.