Viet Nam's consumer price index rose 1.05 percent this month, a twofold increase over last month's value. The increase has been attributed to higher consumption rates related to the upcoming Lunar New Year celebrations.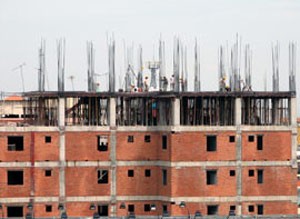 Construction now costs more than before (Photo: T.C)
Goods from the ten main groups index increased between 0.5 and 3.08 percent. Housing and construction materials topped the list with an increase of 3.08 percent, six times higher than last month.

The price of housing and construction materials rose by only 0.5 percent last month compared with 0.8 percent during the same period last year.

The price of beverages and cigarettes increased 1.65 percent over last December. In December, though, the prices of these goods had actually decreased by 0.1 percent compared to the previous month.

The cost of restaurant services went up by 1.13 percent and food prices rose by 1.8 percent.

Meanwhile, postal services decreased by 0.04 percent.

After increasing by 3.2 percent last month, the domestic gold price fell 1.2 percent.

The value of the US dollar against the Vietnamese dong also decreased slightly by 0.2 percent over the previous month.