The Consumer Price Index has gained 0.6 percent compared to October, making the CPI of the past 11 months increase to 6 percent, the Ho Chi Minh City Statistics Bureau reported.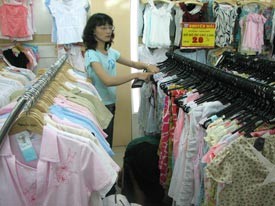 Prices of cosumer goods increase by 1 percent this month (Photo: T.C.)
Higher prices are being seen everywhere: prices of food increase 3.8 percent, consumer goods and services 1 percent, beverages and cigarettes 0.8 percent and household appliances 0.7 percent.

gold prices keep rising by 1.7 percent while the U.S. dollar increases by only 0.2 percent.

However, prices of vehicles and post services decrease by 0.5 percent, and housing and construction materials 0.2 percent.

Among the 10 localities, whose CPI is released by the bureau, Lam Dong has the highest price increase of 1.4 percent, Vinh Long 1.1 percent, Thua Thien-Hue 0.9 percent, and Ho Chi Minh City 0.8 percent.