Vietnam should promote its international economic integration by actively joining global value chains, so as to improve national competitiveness, heard a conference in Hanoi on December 23.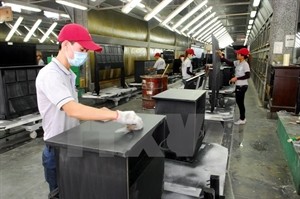 Assembly line of high-quality wood furniture at Kaiser Furniture (Vietnam) Co. Ltd (Photo: VNA)
Participants focused their discussions on how to foster international economic integration in each locality, underscoring the need to attract investment to mountainous provinces.
Speaking at event, Deputy Minister of Industry and Trade Nguyen Cam Tu highlighted the country's efforts in integrating into the regional and global economies, saying that the process has helped strengthen the country's power and improve the living conditions for its people.
Vietnam has expanded and further deepened its ties with other nations worldwide while participating actively and responsibly in international forums and organisations, Tu noted.
According to the Deputy Minister, extensive international economic integration has impacted greatly on the national economic development.
Vietnam has exported goods to 230 countries and territories over the world with its export turnover increasing 22.58 percent per year during 2011-2013. Its business climate has more and more improved, facilitating enterprises' participation in global value chains.
Joining three value chains, the country plays an increasing important role in the global economy, said Trinh Minh Anh, deputy chief of the Office of the Interdisciplinary Steering Committee for international economic integration.
He added that a number of Vietnamese products have become well-known and competitive in the world market.