Businesses should continue to make concerted efforts to restore the stability of the economy, says an economist from the Vietnam Economic Science Association (VESA).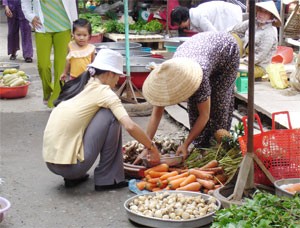 The government's tight and cautious monetary policy proves efficient as the accelerating consumer price shows signs of retreating (Photo: Minh Tri)
The government's tight and cautious monetary policy proves efficient as the accelerating consumer price shows signs of retreating.
The annual inflation rate topped 20 percent in June, the highest since November 2008, but the monthly consumer price rise dropped to 1.09 percent compared with May,
after 2.21 percent between April and May.
However, local businesses should continue to make concerted efforts to boost the competitiveness of the economy, VESA vice chairman and general secretary Nguyen Quang Thai says in an interview with Dau Tu Tai Chinh Newspaper.
Dau Tu Tai Chinh Newspaper: Do you think this is the time for the government to loosen the monetary policy?
Nguyen Quang Thai: We should not be too confident as the global economy remains unpredictable.
In my opinion, the government actually uses a cautious monetary policy, not tight policy, as it restricts credit to non-production sector, including real estate and stock investments only.
The below-20-percent cap on credit growth rate is meant to curb accelerating inflation. The current policy results in no impact to the domestic production and the economic growth.
Do the government's efforts to cut back on public spending look to be undone?
I think the government determines to reduce the spending on public services this year.
It has regulations on halting adding the remainders of last year's government expenditure into this year's spending. It has also stopped advancing budget to 2012's public spending.
It takes time for the government's measures on cutting public spending to become efficient.
In addition, there is urgent spending that the government has to conduct, including investments in public health care, education, disaster prevention and environment protection.
Why do many enterprises keep borrowing from bank despite high interest rates?
Different businesses have different lending demand. Some accept to reduce their profit margin to borrow expensive loans in an effort to finish their progressive projects.
Others are willing to borrow high-cost loans since they find their project profitable if it makes debut as soon as possible. 
Do high-cost loans carry high levels of risk?
Nothing ventured, nothing gained. However, commercial banks should supervise and evaluate borrowers' investment plans. The state bank, of course, will keep close eye on lenders' credit growth.
Some lenders with small finance base will likely to struggle with the current difficult time, so they will be acquired, financial experts expect.
How do you expect the economic growth rate will be this year?
I expect it will be 6 percent. However, it will definitely be lower if the global crude oil costs US$120-150 per barrel.