From next month, low-income earners and investors can access preferential home loans of 6 per cent.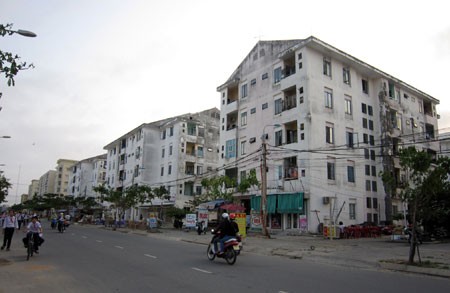 A social housing area for low-income people in Da Nang's Nai Hien Dong Ward. A new regulation will allow low-income earners and investors to access preferential home loans at 6 per cent interest beginning next month (Photo: VNA/VNS)
This will enable them to buy - or build - low-cost housing, which includes "social housing" occupying at least 30 square metres and selling for more than VND10 million (US$480) a square metre.
It will also enable them to buy "commercial housing" of less than 70sqm and selling for below VND15 million ($710) per square metre.
Investors will also be able to apply for the loans to build both social housing and commercial housing.
The new regulation was signed by representatives of the Ministry of Construction and the State Bank of Viet Nam yesterday.
The SBV will provide VND30 trillion ($1.428 billion) to five banks so that they can offer the preferential loans to those eligible - Vietnam Bank for Agriculture and Rural Development (Agribank), Bank for Investment and Development of Viet Nam (BIDV), Viet Nam Joint Stocks Commercial Bank for Industrial and Trade (Vietinbank), Joint Stock Commercial Bank for Foreign Trade of Vietnam (Vietcombank) and Mekong Housing Bank (MHB).
The maximum duration for the loans is 10 years for individuals and five years for enterprises.
Under previous loan proposals, the preferential interest rate of 6 per cent was set to apply only for the first three years and then it was to have been adjusted by the State Bank. Moreover, the loans were not be used to buy social houses.
This raised concerns about the possibility of higher interest rates in the fourth and subsequent years.
However, in yesterday's circular, the ministry and SBV agreed that the interest rate would always be less than 6 per cent per year.
The move reassured borrowers – low income earners and investors, said Nguyen Ngoc, 30, of Ha Noi, who has been looking forward to a loan.
The circular states that at least 70 per cent of the VND30 trillion will be for individuals and the rest for enterprises who develop social housing projects or convert commercial ones to social housing.
Deputy Minister of Construction Nguyen Tran Nam said that the preferential loans offered this time met the expectations of localities, enterprises and people.
"The money is pumped into the social housing segment which is experiencing high demand," he said, adding that the move was expected to warm up other real-estate segments, which are burdened by a high inventory, mostly in high-end luxurious segment.
This has slowed down other industries, including the supply of building materials and caused unemployment. Recently, the construction ministry allowed investors to convert commercial housing projects to social housing because of high demand.
The total loan debt by property companies amounts to about VND200 trillion ($9.5 billion).