Quang Ngai province has asked relevant ministries for measures to deal with long delaying Foreign Direct Investment (FDI) projects. Meantime, Da Nang city has inspected and revoked licenses of many behind-schedule coastal projects to make room for FDI attraction.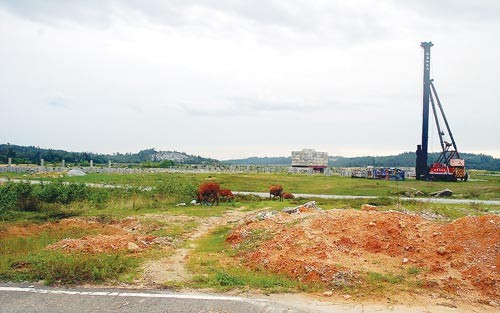 Quang Lien steel project has been delayed for the last decade (Photo: SGGP)
Quang Ngai province has 36 valid FDI projects with a total registered capital of US$4 billion.
 
Of these, only US$545 million has been disbursed accounting for 13.4 percent mainly from those with small registered capital.
 
The well progressing projects include a US$10 million electronic plant of Japanese Sumida Company that will come into operation by the end of this year. Another Japanese invested project Kizuma building factories for lease with US$3.6 million is rushing to finish the same time.
 
At Vsip industrial zone, a US$20 million shoe production and processing project of King Riches has been built after one year implementation. An US$35 million confectionary and beverage factory of English investors and another US$15.8 million fabric plant project of China are expected to come into operation by August.
 
Conversely, some large projects have been sluggishly carried out. Taiwanese E-United Group has proposed to adjust the investment certificate of its Guang Lian steel project for the fifth time and reduce capital from US$3 billion to US$2 billion. It has been delayed for the last decade.
 
The province People's Committee has proposed the Ministry of Industry and Trade, the Ministry of Planning and Investment and the Vietnam Maritime Administration to soon give their opinions on the company's proposal, said the committee deputy chairman Pham Nhu So.
 
The neighboring city of Da Nang has faced with difficulties in FDI attraction for the last two years due to land shortage. Coastal areas in the city have been filled with projects but most have not been implemented.
 
The city's People's Committee has reviewed these projects to make room for FDI attraction. Four of them will see their licenses revoked. It will continue inspecting seven others before deciding to stop them or not.
 
Da Nang's FDI attraction has reduced for the last two years, reaching US$156 million in 2014 which accounted for 53.15 percent over 2013. The condition has not improved in the first half this year.
 
Besides land fund shortage, environmental protection has also caused FDI attraction reduction, said Mr. Lam Quang Minh, director of the Center for Investment Promotion in Da Nang.
 
The city has refused to license some environmentally unfriendly projects such as a US$200 million garment one of Hong Kong and a dying and textile plant of South Korea last year.
 
FDI capital to the city has totaled US$3.4 billion so far with US$2 billion having been disbursed.