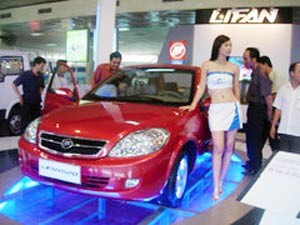 China's Lifan cheap car is introduced at a recent exhibition in Ho Chi Minh City.(Photo:TK)
Despite a recent recovery in auto sales, new cars at the lower end of the price range are finding few takers in Viet Nam.
Mr. Ha Ngoc Phuc, sales manager of Duc Phuong Auto's Ho Chi Minh City branch, says Vietnamese people don't trust the cheap models, hence the poor sales.
"I think Vietnamese consumers need more time to get familiar with these new models. Duc Phuong is content to sell 16-17 units a month for now. Still, it should be pointed out that more Vietnamese are ordering cars through our showrooms these days," says Phuc.
Mr. Le Quoc Hiep from the same company says the model which is being locally assembled is the Fairy, which was introduced into Viet Nam in last June. The 2.2-liter version sells for US$15,990 (including VAT) and the 2.8-liter for US$19,300.
Duc Phuong also sells the Chinese-made Ideal 2, which has aroused some interest among Vietnamese motorists. The Ideal 2, which has a one-liter engine and seats five adults, is priced at US$10,900.
Other local auto companies are assembling China's Lifan cars and the first batch should be ready next month.
Industry experts warn, however, that the lack of major advertising campaigns and long-term after-sales services will continue to inhibit auto sales.
For instance, the cheap cars have only a one-year warranty while well-known auto manufacturers like Toyota offer from two years or 50,000km to three years or 100,000km.