The Ministry of Construction has proposed the Government to stop licensing new commercial housing and urban areas projects by 2014 with aiming to prevent further waste.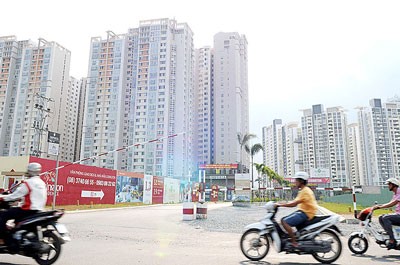 Apartment market shows signs of recovery in HCMC (Photo: SGGP)
Besides, this is to force real estate businesses to concentrate in completion of incomplete projects to better urban landscape and create vitality for new projects, according to proposal.
However, the proposal has met the objection from real estate businesses
Vietnam's real estate market has climbed on the bandwagon causing supply far exceed demand. Businesses have much invested in the high-class segment and paid less attention in the common segment, said Minister of Construction Trinh Dinh Dung.
More than 4,000 new urban area projects worth VND4,500 trillion (US$ 213.28 billion) were approved over 102,000 hectares nationwide last year, according to the ministry. Inventory value totaled VND94.5 trillion (US$ 4.48 billion).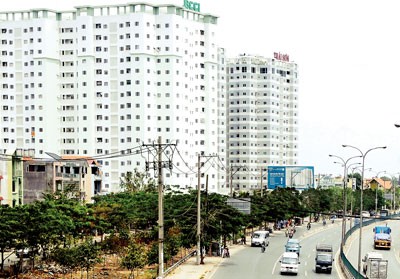 An apartment block in Binh Tan District, HCMC (Photo: SGGP)
The ministry proposal is irrational and goes back up market economy rules, said Le Chi Hieu, chairman and director general of Thuduc House Company.
Licensing is almost the final phase in a process which investors have to do lots of procedures to implement a project, he said.
If the new projects meet with buyers' demand, businesses should be permitted because they will take responsibilities for their investment capital, Hieu added.
 
There is no regulation which bans commercial housing licensing, according to deputy director of a real estate company. In case that such regulation exists, it should be implemented after a route to ensure the market rules.
The proposal is also contradictory with the ministry's report that the housing inventory reduced early months of 2013 and the real estate market is showing signs of recovery, he added.
Besides, the Government's VND30 trillion (US$1.42 billion) credit package has been disbursed too slowly to assist the real estate market, which the ministry blamed for shortage of housing products for buyers to purchase. Why the ministry doest not license more new projects to create more products.
He wondered if the licensing halt is to protect businesses with high stocks.
 
Other businesses said that the ministry should not equal the licensing halt with inventory reduction. If the ministry wants to 'clean' the real estate market, they should issue stricter requirements before licensing and take more actions against behind-schedule projects.