Economists and risk analysts at Business Monitor International (BMI) have just completed work on the Vietnam Business Forecast Report. The report says Viet Nam can maintain its annual growth rate between 7.5% and 8% from now to 2010, according to BBC.
The report says Viet Nam's budget deficit in GDP dropped from 7.2% in 2003 to 5% last year. In 2005, the country saw the industry and service sectors grow by 10.6% and 8.5%, respectively, while agriculture grew by just 4%. Industry and service now accounts for 80% of GDP while agriculture makes up the rest 20%.
Together with the good performance, Business Monitor International warned various challenges for Viet Nam. First of all, Viet Nam did not get the World Trade Organization accession in 2005 and the country could not boost exports as well as expected.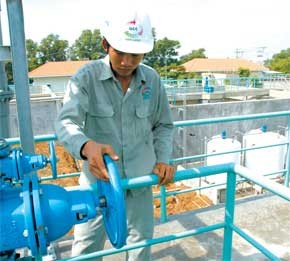 Industry is developing fast in Viet Nam
Another challenge is that when becoming a WTO member, Viet Nam is forced to remove tax incentives for exporters and reduce textile and garment exports, so profitability may be lower than predicted. Another risk is that slow reforms in the banking sector may result in more bad debts.

In its Economic Risk Ratings in the short run, Business Monitor International ranked Viet Nam 66th with 62 points, above six other Asian countries of Pakistan, Cambodia, the Philippines, Sri Lanka, Laos and Bangladesh. Above Viet Nam is China, ranked first with 90 points, followed by Singapore, South Korea, Japan, Malaysia, Thailand, India, Australia and Indonesia. In the long run, Viet Nam was ranked 70th with 54.8 points, the same to the Philippines and lower than Bangladesh (64th), Pakistan (63rd), Indonesia (43rd), Thailand (34th), China (10th), Malaysia (8th) and Singapore (1st).

Why did BMI give Viet Nam a lower ranking in the long run? Many experts say instability of economic policies and changes in the business operating environment have unfavorably affected foreign investors in Viet Nam. Experience and capability of enterprises are still low in general though Viet Nam is about to join WTO.

It is good news that Viet Nam lured a record of US$1.3 billion in the first two months of this year. A notable thing is that Intel, the world's biggest chip maker, has announced investment of more than US$600 million in Viet Nam, giving the country's investment environment a vote of confidence.
In conclusion, the country always needs effective measures to ensure high and sustainable growth.


Related Article:
Intel Launches 1st Chip Plant in VN, Becoming Biggest US Investor

Related Link:
Business Monitor International