Ho Chi Minh City has obtained many breakthroughs to become a modern and important trade center of the country after 40 years of the Reunification Day and 30 years of innovation and development.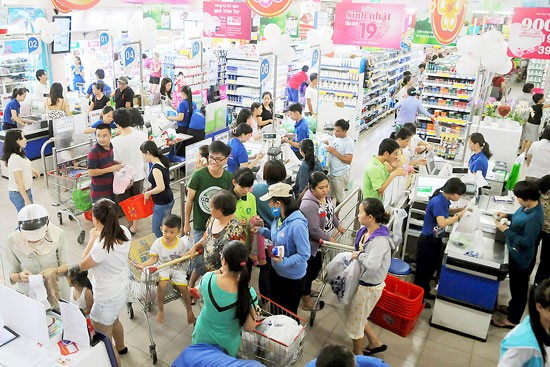 HCMC has more and more modern supermarkets (Photo: SGGP)
The city has made great efforts to remove 10 downgraded wholesale markets from the center area for the construction of Vo Van Kiet Boulevard and build three new wholesale markets in the outskirts including Binh Dien, Hoc Mon and Thu Duc.
Local authorities have successfully assisted traders to operate in the new markets making the city sole locality nationwide successful in building and effectively exploiting wholesale markets.
Thenceforth HCMC has continued relocating hundreds of markets from roadbeds and upgrading other markets in districts.
These changes were recorded after 2000.
Five years after the city carried out open-door economic policy in 1991-2000, the people's lives have been improved leading to higher shopping demand and facilitating economic sectors to attend in trade and distribution fields.
The first supermarket of the city--Minimart was opened in October 1993. Only when Saigon Co.op launched its first supermarket in February 1996, HCMC saw real changes in the trade field.
Afterwards, a lot of other supermarkets continued appearing in Districts 1, 3, and 5 and quickly spread to the environs such as Go Vap and Tan Binh.
The phase after 2005 marked a vigorous shift of trade cooperative stores into modern Co.op supermarkets.
Vietnam officially became a WTO member in January 2007. This blew a fresh air breath to the city's trade as well as other service fields.
Conducting WTO commitments, the country has opened its door to foreign businesses to attend in local distribution system.

Five years later, the market saw a full attendance of large retailers in the world, prompting local businesses to improve its management and organization ability.
Country's largest trade, service center targeted
After forty years of establishment and development, HCMC distribution system has much developed in volume and quality.
Various distribution types such as markets, trade centers, convenient stores, boutiques, and e-commerce have more and more developed and contributed to comprehensive changes of the city's trade field countenance.
HCMC has 240 markets, 40 trade centers, nearly 200 supermarkets, over 700 convenience stores, and 8,967 subsidized goods outlets this year.
The city has not only been able to balance goods supply and demand but also boost exports and imports.
Export turnover reached US$850,000 in 1990, which surged to nearly US$2.6 billion five years later. The turnover continued growing more than 10 percent a year to top US$200 billion in 2007-2014.
HCMC became the first locality nationwide with an export turnover of over US$32 billion last year, accounting for one third of the country's total number.
The ratio of technological, processing and manufacturing products occupied for 70 percent of the total export turnover and agro-aqua and forestry group held 22 percent.
Commodities from HCMC have been shipped to over 200 nations and territories. Goods quality has better met requirements of most importers.
HCMC has led the country in implementing new policies and mechanisms to stabilize goods supply-demand and prices, such as programs on price subsidization, bank and business connectivity, trade cooperation between HCMC and other provinces and cities.
From these programs, the city has gathered and built up a strong business group who are able to supply the market with a large amount of commodities at stable prices.
Last year, trade and service revenue contributed to 59.2 percent of HCMC Gross Domestic Product with the revenue of VND655.37 trillion (US$30.36 billion), a year on year increase of 12.7 percent. Of these, trade held 75.4 percent, up 13.9 percent.
Forty years have gone by with many obtained achievements. However there are some problems for the city to clear to continue promoting its advantages, exploiting potentials, and develop into the country's largest trade and service center.