The state budget has lost VND2 trillion (US$125 million) in the one month since import tariffs were cut on 18 essential items, yet retail prices in the marketplace have not fallen as the government thought they would.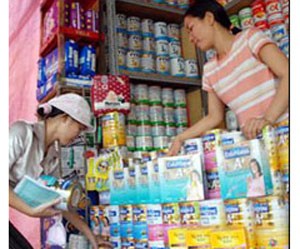 Tariffs on dairy goods were cut but their prices have not dropped.
Experts predict the budget loss will reach 10 trillion (US$625 million) by the end of this year.
Tariffs on foods and foodstuffs have decreased from 30% to 12%, on dairy goods from 10% to 5%, on confectionery ingredients from 15% to 7% and on custard from 30% to 15%, just to give a few examples, yet the Vietnamese consumer has failed to benefit.
Supermarkets in Ho Chi Minh City are holding sales promotions, knocking anywhere up to 70% off their normal prices, and even discounting many of the items now subject to lower tariffs, but most of the goods on special come from inventory and are therefore unaffected by the recent tariff decision.
Besides essential items, the tariffs on steel, air-conditioners, cars and other discretionary goods were cut too, but their prices have not dropped either. In fact, some have gone up.
After the steel tariff was lowered from 5% to 2%, the ministries of Finance, Industry and Trade formed a joint taskforce to monitor the steel companies, certain that the lower production costs would flow through to the prices of the finished products.
Yet steel is even pricier than before. The Viet Nam Steel Association says it's not the members' fault as steel imports cost US$30 a ton more than at the beginning of August, which is why it has submitted a suggestion for higher steel prices to the government.
It's the same with dairy goods. Tomorrow, the Long Thanh Dairy Company will add more than VND2,000 to the price of a liter of milk.
Cars too have failed to drop in price, even though the import tax on them has dropped from 80% to 70%, and a buyer must still wait anywhere from 15 days to three months before receiving a new vehicle.
There's no doubt that the tariff cuts have failed to influence the soaring consumer prices. It's inflation writ large.
It was the economist Le Dang Doanh who suggested that consumer prices were rising in Viet Nam in part because of the higher prices in the international market.
Yet Viet Nam's neighbors are not experiencing inflation on this scale. The blame lies with Viet Nam's monetary policy, the rampant buying of foreign currencies, and the increasing credit terms. The tariff cuts have not been the medicine needed to root out and destroy the disease of spiraling consumer prices.