The Industry and Trade Ministry is tipping that ten export items will each earn over one billion dollars this year.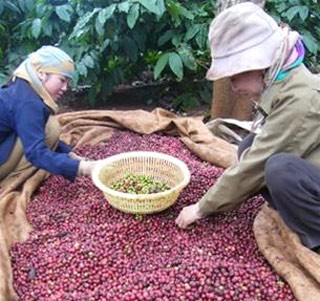 Coffee is one of ten members of the billion dollar export club of the year
The likely members of the billion dollar export club are rice, coffee, rubber, fish, clothing, footwear, electronics, crude oil, electrical wire and cable, and furniture.
 
It's no surprise seeing agricultural commodities on the list; thanks to the far higher prices these days, their revenue has shot up.
 
Rice is forecast to earn US$1.4 billion, coffee US$1.5 billion (a year-on-year increase of 30 percent), and rubber US$1.44 billion.
 
Industrial goods and aquaproducts are viewed as having great potential for consistent export growth.
The ministry calculates that processed fish exports will earn US$3.8 billion, clothing US$7.5 billion, and electronic equipment and parts US$2.2 billion.
 
With the contributions of the billion dollar club, Vietnam's total export revenue in 2007 should reach US$48 billion, a healthy increase of 20.5 percent on last year.
 
However, the ministry says little has been done to enhance the competitiveness of export products so relatively few items are truly big earners.
 
After Viet Nam joined the World Trade Organization early this year, a package of export-boosting measures was removed in line with the country's commitments to the WTO, but no new policies have been formulated to take their place.