Vietnam's aquatic export turnover reached US$3 billion over the last nine months, a decrease of five percent of export value compared to the same period last year, said Nguyen Thanh Bien, Deputy Minister of Industry and Trade.
Mr. Bien said if Vietnam can better exploit the market, aquatic products can bring home more $1.75 billion in the last months of the year, raising aquatic export turnover to the reach the year target of $4.4 billion.
The target is less than last year's turnover, $4.5 billion, but was based on the international economic downturn.
Vietnam exported aquatic products to Japan and the US to the tune of $574 million and $530 million respectively.
US market is recovering
The US was for a long time Vietnam's biggest aquatic importer but after two anti-dumping lawsuits of tra and basa fish and sugpo prawn in 2000, exports to the US fell. However, Vietnam's aquatic export to US have recently begun rising again.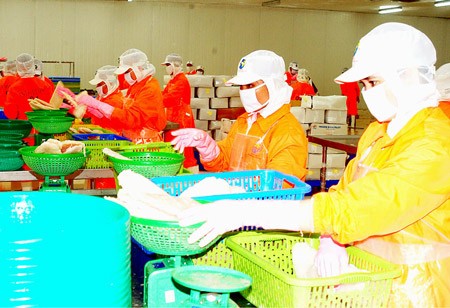 Processing tra fish for export at Nam Viet Joint Stock Company, An Giang Province. (Photo: SGGP)
Many aquatic products were imported to the US over the past few months, such as tilapia, crab, tra and basa fish and oyster.
Vietnamese aquatic export companies have more opportunities to export to US, with US's import demand of sugpo prawn increasing sharply due to supply falling from other countries, except India, Mr. Bien said.
According to the Vietnam Association of Seafood Exporters and Producers (VASEP), overall the US became the fifth largest importer of Vietnam's sea product market, with an increase of 337 percent in volume and more than 560 percent in value.
The US became the fourth largest market from March, after Japan, Korea and the EU. Other markets have fluctuated while US demand has continued to grow over the past few months.
Many aquatic export companies said that demand of octopus in many countries has been increasing in the year's closing months and basa and tra fish exports to the US receiving the best prices.
Strengthen, exploit and expand the market
Export to traditional markets like Japan, the EU and the US have been on the rise, and will be helped by the Japan-Vietnam Economic Partnership Agreement, which comes into effect on October 1.
The agreement slashes tariffs by up to 86 percent on Vietnamese farm, forestry and aquatic products.
The import tariff of Vietnam's shrimp will be lowered to one to two percent, offering exporters a prime opportunity to get a bigger slice of the market.
Japan's aquatic product imports are expected to rise from September to December and the price for tuna, salmon, surimi, crab, octopus and frozen prawn likely to rise due to limited supply.
Spain, the biggest consumer of Vietnam's tra and basa fish in the EU (400,000 tons per year) recognized that Vietnam's seafood products can meet EU's requirements on food hygiene.
According to the Ministry of Industry and Trade, in the year's end months Vietnam's aquatic export companies need to continue to exploit big markets, such as South Korea which consumes 7,300 tons shrimp per year, Russia which mainly imports tra fish, Japan which consumes tra and basa fish and the Middle-East.
Government needs to give more help
According to VASEP, to exploit markets effectively, companies need to have enough materials to process.
There are some 700 seafood processing companies nationwide while the domestic source can provide only 50 percent of the total materials demanded. In addition, aquatic exploitation is decreasing, as many fishermen have given up their careers due to increasing expenses, limited supply and poor profits.
Some companies in Binh Thuan, Ba Ria-Vung Tau and Kien Giang said they just meet 40-50 percent of octopus export orders.
To enhance aquatic export turnover in the last three months, companies need to join trade exhibitions in the EU, Russia, South Korea and Japan to seek new partners and the Government needs to consider cutting import tax of aquatic materials, said VASEP.
Zero import tax of aquatic materials has been applied in other regional countries, it added.