According to the Ministry of Agriculture and Rural Development, agro-aqua exports have slowed down in both volume and value in April.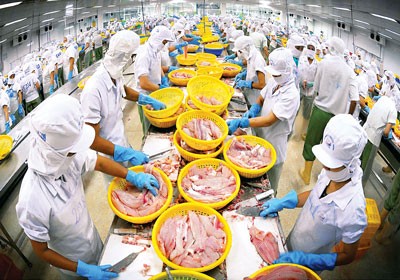 Pangasius exports are under strain from US anti-dumping tax (Photo: SGGP)
Huynh Thanh Quang, deputy director of the Department of Industry and Trade in Ca Mau Province, said several businesses are reducing production, operating perfunctorily or even shutting down, with some even laying off workers.
Duong Tien Dung, permanent deputy chairman of the People's Committee in Ca Mau Province, proposed that banks lend more support to rescue the shrimp business and purchase holdings of enterprises who are about to close their doors.
Dong Thap Province has already an inventory of 33,000 tons of frozen seafood. Fish feed production has reduced by 4.5 percent because pangasius breeders have narrowed production scale due to capital shortage and continued losses.
Tran Tuan Anh, deputy Minister of Industry and Trade, said rice export volume and value has dropped substantially compared to the same period last year. With the price of Indian and Thai rice falling further, there will be pressure on Vietnamese rice exports.
Over the last three years, domestic rice prices have dropped steadily by VND1,000 a kilogram per year causing much inconvenience and loss to farmers. The rice stockpiling program, implemented annually, just temporarily pushed price up.
Leaders of the Mekong Delta provinces have proposed to the Ministry of Industry and Trade to find urgent measures to boost aqua-agro exports.
Nguyen Minh Nhi, former chairman of the People's Committee in An Giang Province, said that Vietnamese businesses have been applying the same run-of-the-mill methods for the last 20 years. They simply purchase rice from traders and exports on contracts from foreign partners.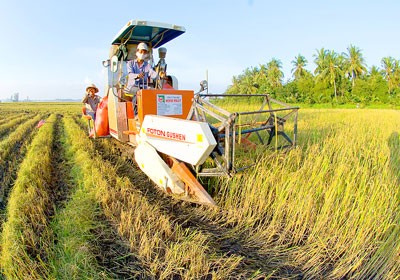 Farmers harvest winter-spring rice crop in the Mekong Delta province of Vinh Long (Photo: SGGP)
This method does not allow for development and investment in the modern automated warehouse system, high-tech processing plants and large-scale production.
Enterprises have exported larger volumes of rice but yield less value while farmers too earn less--despite increased production and productivity.
Nhi said that a national strategy is now of utmost importance for the development of the rice industry.
Pangasius fish industry is facing more difficulties from the US Department of Commerce (DOC) decision to impose anti-dumping tax on frozen pangasius fillet from Vietnam.
Cao Duc Phat, Minister of Agriculture and Rural Development, has proposed that provinces in the Mekong Delta call on fish breeders and businesses to calm down. Local authorities should strictly handle those taking advantage of the DOC decision, to squeeze or reduce fish prices.
The Ministry is now working with relevant organs to reorganize the pangasius fish export to the US market and proposes that breeders apply new breeding techniques to reduce cost price and ensure seafood safety. Farmers should only breed the fish after receiving confirmed contracts from processing plants.
In the first four months of the year, Vietnam exported 2.38 million tons of rice for about US$1 billion, an increase of 7.6 percent in volume but fall of 0.2 percent in value.
China is still the largest market of Vietnam. The export turnover went up by 5.5 and 2.5 folds to the Philippines and Angola.
Seafood export value touched $1.7 billion, a reduction of 4.6 percent over the same period last year with considerable falling in three main export markets of Vietnam, namely, the US, Japan and South Korea.