Capital disbursement by foreign-invested projects reached about 4 billion USD in this year's first four months, representing a year-on-year increase of 6.7 percent, according to the Foreign Investment Agency under the Ministry of Planning and Investment.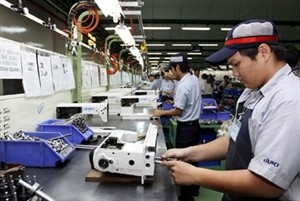 Workers produce sewing-machines at Juky Vietnam at the Tan Thuan Export Processing Zone (Photo: VNA)
However, the flow of FDI capital into the country in the period slumped, with 4.855 billion USD, equivalent to only 59.1 percent of the figure for the same period last year.
Of the amount, 3.32 billion USD went into 390 newly-licensed projects, while 140 existing projects added 1.62 billion USD to their capital.
The Thang Long cement factory invested by Indonesia in the northern province of Quang Ninh is the largest FDI project so far this year, with a total registered capital of 352.6 million USD. It was followed by the Dai An Vietnam-Canada hospital project worth 225 million USD in northern Hai Duong province.
Among 36 countries and territories investing in Vietnam in the Jan-April period, the Republic of Korea topped the list, with both newly-registered and additional capital totaling 1.12 billion USD, followed by Japan and Singapore with 531 and 479.1 million USD, respectively.
The processing and manufacturing industries absorbed the most foreign investment, receiving 3.6 billion USD in both newly-registered and additional capital, accounting for 74.3 percent of the total.
Real estate took second place with 329.3 million USD, 8.1 percent of the total. The construction sector came third with 237 million USD.
The southern province of Binh Duong topped the list of FDI destinations, attracting 792.9 million USD, 16.3 percent of the national figure, followed by Ho Chi Minh City (749.1 million USD) and Dong Nai (537.8 million USD).