An economic turmoil has force many furniture makers in the central province of Binh Dinh to reduce operation or shut down this year.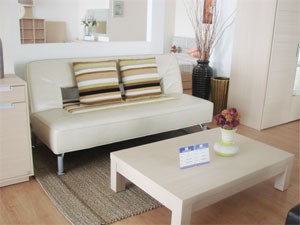 A set of interior furnishing is displayed at a HCMC-based furniture shop (Photo: Minh Tri)
Statistics show there are 160 furniture manufacturers in the province with the total fabricating output of 345,000 cubic meters of wood per year.
Binh Dinh Province's export turnover of furniture amounted to more than US$1.1 billion in the period of 2006 and 2010, an equivalent of nearly 61 percent of the province's figure.
Most of local producers are small- and medium-size enterprise, which meet up quality requirements of big foreign traders.
"Local furniture makers focus solely on outsourcing. They are not eager to upgrade equipments and techniques to boost output, as well as create their exclusive patterns," an expert told Dau Tu Tai Chinh Newspaper.
"Their competitiveness remains low due to a shortage of skilled workforce and poor cooperation with their counterparts."
Therefore, local manufacturers struggle to weather the economic meltdown, he says.
So far this year, input cost of the furniture sector has surged more than 30 percent so far this year, while export prices have remained unchanged, according to furniture makers in Binh Dinh Province.
"A high lending rate combined with low profit margin are scaring off local producers," says a director of a furniture maker, who asked to be unnamed.
Financial experts ask businesses should focus on interior furnishings in an effort to boost the interior output to 40 percent of the province's figure by 2015.
The Binh Dinh Province People's Committee announces it will subsidize 30 percent of the expense that interior makers are required to make for setting up the environment impact assessment of their investment projects.
It will also finance 15 percent of the cost of building waste water treatment system and 70 percent of the expense of training manual workers.
The local authorities help interior manufacturers to hire experts in order to improve their fabricating techniques twice a year.
The top export product from Vietnam to the EU last year was footwear, valued at 1.75 billion euros. It was followed by textiles and garments, coffee, seafood and furniture.