Vietnam will continue to rely on capital and natural resources in order to achieve an economic growth rate of 5.8 percent in 2014 and 6 - 6.2 percent in the following year, Minister of Planning and Investment Bui Quang Vinh has said.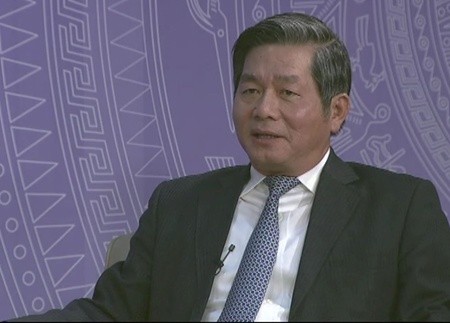 Minister of Planning and Investment Bui Quang Vinh. (Photo chinhphu.vn)
According to the minister, among the factors affecting national GDP growth, capital accounts for 57.5 percent; labour, 25.5 percent; and productivity, 16.25 percent.
Despite recording a GDP growth rate of 5.4 percent this year, Vietnam still faces a lot of difficulties as two driving forces behind the growth, raw materials and public investment, are running dry, he said.
He noted that in the middle and long-term, the local economy cannot grow in that way because natural resources like oil and gas, coal and iron ore will be exhausted.
"To reach the GDP growth targets for 2014 and subsequent years, we should implement synchronous measures to increase foreign direct investment (FDI) attraction, improve business productivity and efficiency, and complete legal frameworks," said Vinh.
The minister laid special emphasis on institutional reforms, especially creating a legal framework for the private sector to get involved in infrastructure building, economic development and public services.
Vietnam is building a series of legal documents and institutions aimed at mobilising human and material resources of all domestic and foreign economic sectors for its development, he said.
The country also needs to accelerate the restructuring of its economy, only when it has enough resources can sustainable growth be achieved, he added.
According to Vinh, over the past three years, despite the economic recession, Vietnamhas succeeded in attracting FDI with increases in not only the number of projects but also in the level of investment capital. Many FDI businesses have seen successful operations in the country.
These enterprises have made important contributions to Vietnam 's economic growth and increased its export value, he said.
Noting that FDI enterprises face fewer difficulties in capital access and operation efficiency than those confronted by local businesses , the minister said Vietnam need basic and effective solutions to remove obstacles and help domestic firms so that they are able to achieve the same successes.
He mentioned a possible measure which is speeding up the process of buying up bad debts of firms having clear and feasible development plans so that they can access low interest loans to maintain operation," he said.
In addition, a transparent legal framework will allow businesses to have fair access to resources.
At the same time, the minister stressed the need for domestic enterprises to increase productivity and apply scientific and technological advances in their operation.
"Science and technology will be the decisive factor for enterprises' competitiveness," minister Vinh said.
In his opinion, the State should encourage the private sector to engage in the economy, including providing public services, investing in production and generating jobs for local labourers, while speeding up the equitisation of State-owned enterprises (SOEs).
According to approved plans, by 2015, Vietnam will equitise many State-owned corporations and economic groups and keep only eight groups. The State will create a new legal framework for the equitised companies to gain fair access to resources.
"These institutional reforms are essential to the Vietnamese economy not only for the 2014-2015 period but also in the middle and long-term. Only by this way, will the local economy develop in a strong and sustainable manner," minister Vinh concluded.