The Netherlands' international development bank has signed a credit contract with Viet Nam's Sacombank Leasing Company to provide a US$8 million equivalent local-currency loan with a five-year term.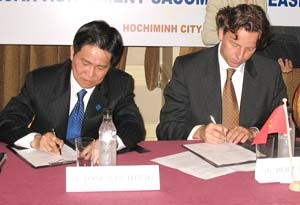 Dutch development minister Koenders (R) and Dang Van Thanh of Sacombank signs the agreement. (Photo: T. Thuy)
On behalf of the Dutch bank, aka FMO or the Netherlands Development Finance Company, visiting Netherlands Minister for Development Cooperation Bert Koenders on Thursday signed the agreement with Dang Van Thanh, chairman of Sacombank Leasing Co. and Sacombank, a major commercial bank in Viet Nam.
Mr. Wim Wienk, Director Asia of FMO, witnessed the signing, which took place in Ho Chi Minh City.
Leasing finance is primarily used by small and medium-sized enterprises as well as start-up companies, said Sacombank Leasing CEO Do Thu Ngan.
Minister Koenders said, "I am happy to see FMO and Sacombank working together to increase the number of financial products available to small and medium-sized enterprises. With the possibility of leasing these companies can realize their potential much better."
"Viet Nam is a good example of an emerging economy with a rapid developing financial sector," the minister added.
Ms. Ngan of Sacombank Leasing said this FMO loan would help her company be able to meet financial needs from Vietnamese enterprises and expand its nationwide network.
Sacombank Leasing signed 174 leasing contracts with individuals and enterprises from July 2006 to the end of last December, according to her.
Netherlands development minister Bert Koenders and foreign trade minister Frank Heemskerk are visiting Viet Nam from March 16 to 21 to strengthen and widen bilateral relations between the two countries. The scope for cooperation goes beyond development cooperation to encompass trade and investment, agriculture, health care, water, culture, and politics.