The Dutch Business Association Vietnam (DBAV) September 20 officially established its branch in Hanoi.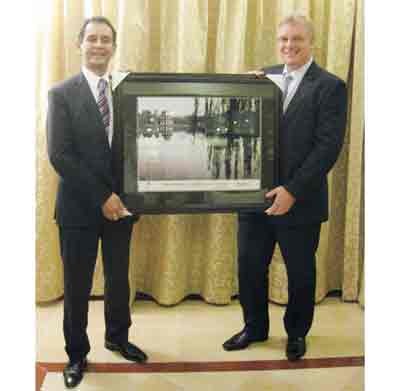 Joop SCheffers (left) gives a gift to  Jos Langens on the official launch of the new branch in Hanoi (Photo: Courtesy of the Netherland Embassy)
DBAV chairman Jos Langens and Dutch ambassador to Vietnam H.E. Joop Scheffers gave the official start of the branch during a ceremony at the ambassador's residence. The ceremony was attended with representatives of more than 20 Dutch businesses operating in Hanoi.
"There is a growing number of Dutch businesses in the north of Vietnam who can become a member and benefit from taking part in DBAV activities," says Mr. Jos Langens.
According to Ambassador Joop Scheffers the establishment is appropriate for the trend that economic cooperation between the Netherlands and Vietnam has been intensified.
"The Netherlands has been a major investor in Vietnam, and at the moment it even was the largest EU investor in the country. This is the right time for DBAV to expand its activities", he added.
DBAV was officially established in 1999 in Ho Chi Minh City. It maintains close links with the Consulate General of the Netherlands in Ho Chi Minh City and the Royal Netherlands Embassy in Hanoi. It's also a member of the European Chamber of Commerce in Vietnam (EUROCHAM). The platform organization has more than 50 members from the Dutch business community in Vietnam.