The Management Board of the Dung Quat economic zone has issued more preferential policies to attract investment.
Investors in the Dung Quat Economic Zone (EZ) will enjoy more preferential policies, said Mr. Le Hue, Deputy Head of the Management Board of the Dung Quat EZ, at a meeting in Ho Chi Minh City.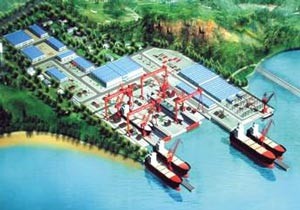 The model of Dung Quat Shipyard
Investors will be exempted from import tax on raw materials, materials and semi-finished products not produced in Viet Nam for the first five years, he told the meeting, held by the American Chamber of Commerce and the Management Board of the Dung Quat EZ for US business people.
The special corporate income tax rate applied for them is 10% in 15 years, but investors are exempted all for the first four years and will have to pay half of the tax in the following years.
High-tech projects or important projects, which are approved by the PM, will enjoy the preferential tax rate of 10%, applied for the entire life time, while high-income people will have to be pay just 70% of the personal income tax.
The infrastructure system of the Dung Quat EZ has basically been completed. By April 2006, 64 projects with total pledged capital of US$3.15 billion have been licensed, among which 16 projects are in operation, mostly light industries such as garment, wood processing and building materials. Other 14 projects are under construction, including Dung Quat Oil Refinery Plant, Dung Quat Shipyard, Paradise Resort and the Thien Tan luxury residential area.