Japanese rice experts will run a test on the cultivation of a Japanese rice variety called Hikarisinseki in Dong Thap Province in collaboration with Vinh Hoan and Kanematsu Corporations.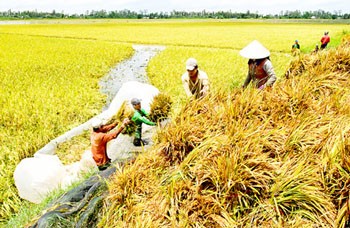 Farmers harvesting their summer-autumn rice crop. (Photo: SGGP)
The Hikarisinseki rice variety is popular in Japan. In tests conducted in An Giang, Hung Yen and Thai Binh Provinces, this rice variety showed productivity of 8 tons per hectare.
In related news, Bac Lieu Province will cultivated rice on nearly 30,000 hectares this year for the rice-shrimp farming crop which gives an annual average production of 150,000-180,000 tons, thus is as important as other crops. However, this year farmers are facing unfavorable weather and difficulties in finding salt-tolerant rice varieties for cultivation.
The Agriculture and Rural Development Department in Bac Lieu Province has decided to support farmers with 12 tons of OM6677 and OM5629 salt-tolerant rice seed. These rice varieties were sponsored by GIZ Project and have growth period of about 100 days. Rice seeds sowed in September will be cultivated over 100 hectares of rice-shrimp farming land.
Meanwhile, the price of rice in the Mekong Delta provinces has begun to   decline after surging for a few days. On September 16, traders in An Giang, Ca Mau, Tien Giang, and Dong Thap Provinces bought fresh paddy of low-quality IR 50404 for VND4,800-4,900 a kilo, with price even lower at about VND4,300-4,500 a kilo in some remote areas, a decrease of VND500-800 a kilo compared to the beginning of this month.
Rice price fell as rice producers no longer purchased as much rice as before and long-lasting rain having caused rice crops to flatten on fields, making it difficult for farmers to harvest by combine harvesters but instead having to harvest manually. As a result the paddy is still wet, affecting the rice quality.