DHL Express Asia Pacific said it would invest US$14 million in Viet Nam in the next five years through a joint venture to upgrade its infrastructure and expand service to meet the growing demand in the country.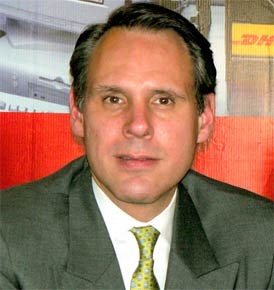 Scott Price poses for picture in Ha Noi on Thursday
Scott Price, chief executive of DHL Express Asia Pacific, announced this investment in Ha Noi on Thursday.
Via its newly formed joint venture with the Vietnam Post and Telecommunications Group, DHL Express will put the funds in new facilities in big cities like Ha Noi, Ho Chi Minh, Hai Phong and Da Nang, as well as fleet upgrades and new vehicles, DHL said in a press release. The joint venture will start operating in 2007.
The announcement came while numerous international business executives are gathering in Ha Noi for the Asia-Pacific Economic Cooperation forum's CEO summit on November 18-19.
 
Viet Nam's World Trade Organization admission earlier this month "represents the emergence of Vietnam towards an economy that is very competitive," Mr. Price said.
"Besides DHL, other international leading express companies consider Viet Nam a potential market and have plans for big investments to expand networks and compete here."
He said the Viet Nam air express business posted revenue at about US$32 million last year and is forecast to grow by 19% in the next five years.
Germany's DHL and the Viet Nam Post and Telecommunications Group have done business together for 18 years. DHL is operating 10 agents in 10 cities and provinces, besides the head office in Ho Chi Minh City.