The biggest wharf in Cuu Long (Mekong) Delta was inaugurated in southern Can Tho City on September 19, two months earlier than expected.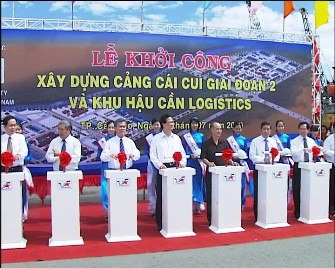 Prime Minister Nguyễn Tấn Dũng (C) presses the button to kick-start the construction of the Cái Cui Port, Cần Thơ City, July 11, 2009.
Terminal No 2 of Cai Cui Seaport, the principal work of the seaport construction project's second phase, is capable of handling 20,000- DWT ships and receiving nearly-30,000-DWT ships.
The project, built in just 14 months, came to fruition through the co-operation of Can Tho City People's Committee and the Viet Nam National Shipping Lines (Vinalines).
The wharf will facilitate Can Tho City's move toward becoming one of the gateways of the Mekong Delta area, a major import and export hub.
It will also help reduce the cost and time of transport and ease the pressure on the overloaded Saigon Seaport.
The first phase of construction for the Cai Cui Seaport, a 9-ha wharf capable of accommodating vessels with a freight capacity of 10,000 tons and a warehouse and container yard, began in January 2007.
Once the entire project is completed in 2012, Cai Cui will become the largest-ever seaport in the region. When fully operational, it is expected to handle 650,000 tons of cargo per year.