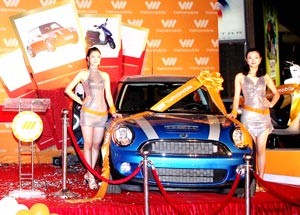 The Mini Cooper as the special prize seen at Vietnamobile's lucky draw in Hanoi on Mar.1
A man in the central city of Danang has won a Mini Cooper car from Vietnamobile's lucky draw the mobile operator organized for its prepaid subscribers nationwide on Monday.

Nguyen Van Ai was the lucky winner of the special prize. The car is worth more than VND1 billion.
Three other subscribers won a Piaggio Fly scooter each as the first prize. Mr. Nguyen Thanh Nam in Hanoi, Mr. Pham Xuan Hai from the Central Highland province of Daklak, and Mr. Dang Tran Doan Duc Hoai Anh from the southern province of Dong Nai were the Piaggio winners.
In addition, thousands of other customers have received New Year 'lucky money' from Vietnamobile.
The luck draw was part of a promotional program Vietnamobile ran during February for the Lunar New Year holidays.

The mobile network, launched in April 2009, is a partnership between Hutchison Telecom International Limited and local operator Hanoi Telecom.