Consumer Price Index (CPI) increased 0.55 percent since January 2014 because of the minimal increase of purchasing power, according to the General Statistics Office on February 24.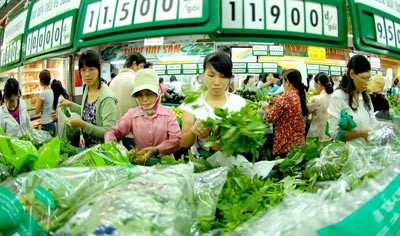 Customers at vegetable stall of a supermarket in HCMC (Photo: SGGP)
Food and food and drink services are the only groups experiencing over one percent increase in consumption. Increase in food CPI was up 1.16 percent and food and drink service CPI was up 1.6 percent. The CPI for alcohol and cigarettes increased 0.6 percent.
Housing, electricity, water, gas and construction materials have decreased 0.64 percent CPI.
Trade deficits return in February. The country's export turnover is US$9.6 billion while import reaches US$10.8 billion, according to the Statistics Office.
Industrial Production Index decreased 10.3 percent since January due to the Tet holidays.