The First Logistics Development Company started a new expansion stage for its Vietnam International Container Terminals (VICT) in Ho Chi Minh City on Tuesday.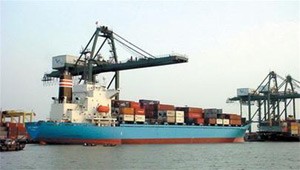 A container ship at the VITC port in Ho Chi Minh City
VICT said an additional investment of US$15 million would be used to facilitate the growth of its containerized cargo handling services.

VICT general director Joseph Wann Shang Jye said the money would go to the expansion of its wharf by 192 meters to allow the port to berth up to four container vessels at a time.

When the project is completed, the wharf will have a total length of 678 meters and the port's handling capacity will rise to 900,000 TEUs per year by 2008, he said.

VICT's handling capacity grew from 50,000 TEUs in 1999 to almost 450,000 TEUs last year.

On the same day, VICT representatives signed contracts with three partners: construction consulting firm CBM Co., UNICO which supplies 27 high empty stackers for VICT, and NAVIS which provides a terminal operating system.

VICT began operations in 1998 as the first dedicated container port in Viet Nam. It is owned and operated by First Logistics Development Co., a joint venture between Viet Nam's Southern Waterborne Transport Corporation and Mitorient – a partnership of Singapore's Neptune Orient Lines and Japan's Mitsui Co.

Located in District 7 along the Sai Gon River, VICT is a major container port in Ho Chi Minh City.