Commonwealth Bank of Australia (CBA) has officially become a strategic shareholder of Hanoi-based VIB or Vietnam International Bank with acquisition of a 15 percent of the VIB shares.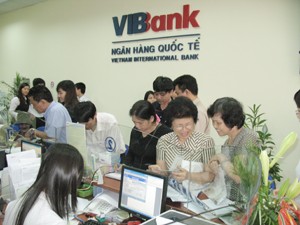 Customers at a VIB Bank office
By selling 60 million of shares, VIB's charter capital added VND600 billion (US$30), bringing the total to VND4 trillion ($200 million).
CBA and VIB will implement a five-year plan, which is expected to help VIB strengthen competitiveness since October, 2010.
The CBA will send experts to support the VIB in important segments such as retail banking, technology, human resource, finance and treasury.
Commonwealth Bank of Australia is an 80-year old lender having presence in 12 countries with 40,000 staff. It also owns the biggest network in Australia with about 1,000 braches and transaction offices and 4,000 automatic teller machines.