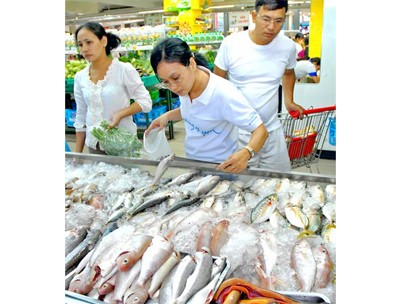 The prices of aquatic products remain stable. (Photo: SGGP)
Since the beginning of September most supermarkets saw many products' prices rise by between two to ten percent, especially those made with sugar and milk. However, the prices customers saw did not rise as high as forecast thanks to stockpile planning.
As essential commodities involving many products, the price of imported sugar and milk rose sharply recently.
Refined sugar was VND15,000-16,000 a kilo, VND4,000-5,000 higher year on year. Dairy firms said imported milk powder rose by ten to 12 percent year on year.
Poultry firms said chicken prices slightly fell compared to last week but remained higher than last month.
Pork surged VND1,000-1,500 a kilo to VND35,000 a kilo in the first week of this month and have remained there.
The price of most aquatic produce was stable, except shrimp which rose VND10,000 a kilo to VND115,000 a kilo.
At some retail markets in Ho Chi Minh City, including Tan Dinh and Ben Thanh markets, the price of vegetables was fairly high.
According to Pham Van Minh, director of Phu An Sinh Food, if cattle-feed remains stable and the supply of breeding stock is profuse, poultry prices will not change sharply by Tet.
Phu An Sinh has made plans to prepare goods for the market for lunar New Year to prevent prices from suddenly rising, he said.
Phu An Sinh said it would continue to cut prices by five percent until the end of this month.
Van Duc Muoi, deputy general director of Vissan, said his company had not planned to raise its rates and has already finished preparations of goods for lunar New Year.
Dairy producer, Nutifood, also said it would keep the existing prices until the end of this year.
Co.opMart and BigC supermarkets continued to run many promotional campaigns to tie the prices at current levels.