Garment export earned over US$5.8 billion from January to September, exceeding crude oil for the first time to top the list of Vietnam's export staples.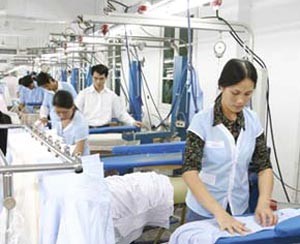 Garment export exceeds crude oil to top the list of Vietnam's export staples in the last nine months
While the revenue from clothing exports increased 31 percent over last year, that from crude oil fell 12 percent to US$5.78 billion.
 
Other manufactured goods maintained their high export growth in the period. To give two examples, furniture rose 25 percent year-on-year to US$1.7 billion, and electronic equipment and computer parts were up 24 percent to US$1.5 billion.
 
Agricultural exports declined owing to a shortage of available farm produce, particularly coffee and pepper though their export prices were high throughout the first three quarters.
 
The volume of coffee shipped abroad in September dropped by 35,000 tons from the 75,000 tons exported in July, and pepper fell from 9,500 tons in August to 7,400 tons in September.
 
All told, the export trade earned Vietnam US$35.2 billion in the first three quarters, a healthy rise of 19.4 percent from last year.
 
Still, the Industry and Trade Ministry predicts that crude oil, rubber, coffee and pepper exports will keep falling until the end of the year, so the final figure for 2007 might barely exceed last year's.