Traditional cloth weaving has turned the small farming village of Meo in the Red River Delta province of Thai Binh into a prosperous village.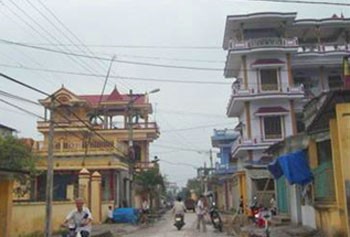 Spacious houses in Meo villages (Photo: Tuoi Tre)
As one nears the Meo Village in the Thai Phuong Commune in Hung Ha District, we can hear the bustling sound of weaving shutters.

Dinh Van Khac, a village resident said that this was once a small place with little agricultural potential hence the locals had to look for alternate means to earn their living.
The villagers adopted cloth weaving as an alternate source of livelihood and gradually weaving has become their main livelihood and brought prosperity to their homes even though they have no land to grow mulberry.
According to Khac, Meo people have since become financially secure and quoted a saying that "Meo people can live anywhere with their skill of cloth weaving and trading."
He also said that ever since 1986 when Vietnam adopted the Doi Moi movement (Innovation), Meo Villages have established production units to weave cloth.
The Meo villagers are not only good at weaving cloth but also at trading. They sell their own products around the country and even abroad.
Most Meo people believe that their village is at least 700-800 years old with Ung Mao as its ancient name carved on the village gate. The community has 11 main families including Tran, Vu, Dinh and Le with most of the people achieving much success in schools and various careers.
The village inhabitants are proud that their silk has become so famous and sells in Hanoi and other parts of the country.
Besides weaving cloth, Meo people also make thread, plait cord and build looms. All products with the Meo Village brand name are always guaranteed sellers.
During the wars, when Vietnamese went abroad to work in east European countries, Meo people sent their denims to sell there. Later when the market economy opened, they wove brocade to sell domestically and also for export.
In the last decade, they mainly exports to Japan, Korea, Canada and Europe.
Other than being expert weavers and good businessmen, Meo people are also very creative. Dinh Xuan Canh, a retired official said that his village has just created an innovative weaving machine which can weave various kinds of fabric in a much shorter time. Many engineers have visited the village and admired these mechanical looms.
Most villages along the Red River Delta are very peaceful and quiet. However, Meo Village is always noisy with the sound of shuttles. From early in the morning to well past mid night, container trucks arrive to transport woven cloth from the village to Hai Phong Port.
Nguyen Van Chung, chairman of Thai Phuong Commune People's Committee said the village has over 1,300 households with an average of two looms each.
In addition, the village also has the potential to provide jobs to over ten thousand worker. One can see them after working hours as they stream onto the streets making the village look like an industrial zone.
According to Chung, of the hundreds of production units in the village, the most outstanding ones are the wash-cloth exporters like Tuan Loc, Toan Thang, Nam Thanh, Tan Phuong and Tan Cuc.
Each month these companies export hundreds of containers of wash-cloth to countries around the world yielding a turnover of hundreds of US dollar. The Meo Village boasts of hundreds of billionaires, hundreds of cars and fabulous villas.
Not only are they making Meo prosperous, people from here are successfully setting up business in other parts of the country. Amongst such outstanding entrepreneurs are Vu Quang Huy, chairman of the Bitexco Corporation and Tran Van Sen, owner of Dai Viet Beer Company.
The people of Meo have created very good living conditions for their children and provide them with excellent education. Every year, many students from the village pass universities and colleges.