Average office rentals in Ho Chi Minh City continues to soften for the 10th successive quarter, with Grade A rents in the region of US$36 per square meter, Cushman & Wakefield said Tuesday.
Grade B rentals in the metropolitan are in the region of US$22.5 psm, the real estate service firm said during Tuesday's release in the city of its quarterly report on Vietnam offices and residences.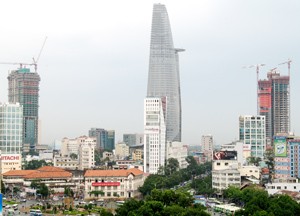 The highest building in this photo, taken on July 21, 2011, is Bitexco Financial Tower, a skyscraper in Ho Chi Minh City's District 1, with 68 floors above ground and three basements, and a height of 263 meters. (Photo: Tuong Thuy)
Leasing activity improved in the second quarter as compared with the first quarter, but it is some 40% lower than the same period last year, said Robert Johnston, associate director, Tenant Strategies and Solutions.
The city's total office stock amounts to 1,126,000 square meters, with Grade A 140,000 sqm, Grade B 520,000 sqm and Grade C 466,000 sqm, he added.
"The wealth of supply that has come to the market has come over the past 12-18 months, coupled with low absorption levels, has had a depressing effect on rents across all sectors.
"There's a significant office development pipeline over the next 12-18 months. However, we anticipate that a lot of this supply will be delayed due to the current economic uncertainty."
Tenants are currently renegotiating with their existing landlords for favorable lease terms or relocating to alternative new supply with attractive incentives, added Johnston.
Regarding quality, he said building quality of new supply was continually evolving, bringing higher standards of specification.
Cushman & Wakefield projected that rents would continue to soften in the second half of this year and beyond, and the overall vacancy rate would remain elevated in the coming time given new supply continuing to increase.
According to the firm, the supply of Grade A and B office spare in HCM City will increase in the short to medium terms. Significant projects are due for completion in 2012.13 include President Palace (9,300 sqm), Le Meridien (9,000 sqm), BIDV Tower (30,000 sqm), Saigon M&C (49,000 sqm), HMTC Building (26,000 sqm), and Richland Hill (22,500 sqm) in District 9.